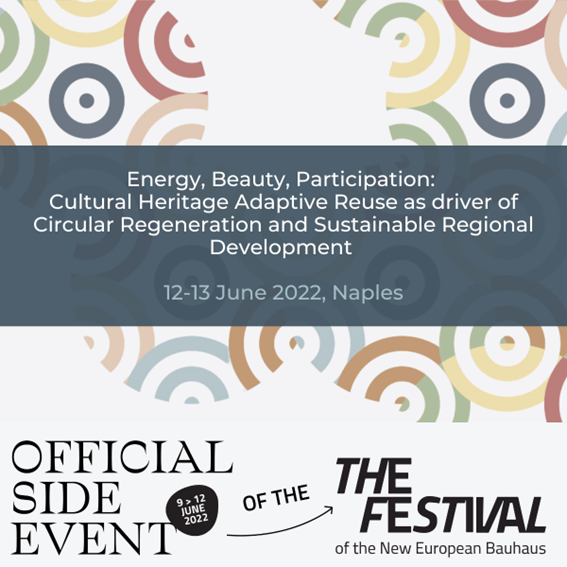 Last June 2022 the National Research Council of Italy hosted the side-event of the New European Bauhaus Festival "Energy, Beauty, Participation: Cultural Heritage Adaptive Reuse as driver of Circular Regeneration and Sustainable Regional Development".
The event recordings are now available on the Be.CULTOUR YouTube channel.
If you missed interesting speeches, see recordings and programme on BeCULTOUR website
The event stimulated a discussion between researchers, policy makers, practitionners, entrepreneurs and civil society organisations on the future of cultural heritage as driver of innovation and sustainable development through circular economy, sharing the most interesting results of European-funded research and innovation projects such as H2020 Be.CULTOUR and CLIC, as well as REFLOW, Open Heritage, and other international projects such as Charter and Cultural Heritage in Action.
See the programme and recordings! https://becultour.eu/NEB-side-event-Naples
As emphasized by a number of European Commission documents and policies (the New European Bauhaus, the European Cultural Heritage Green Paper, the European framework for action on cultural heritage, to name a few), cultural heritage recovery and adaptive reuse can become a driver of economic and social regeneration at local level supporting jobs creation, social cohesion and maintenance through building construction activities, cultural tourism, cultural and creative activities, local social economy, RD&I and knowledge economy. At the same time, cultural heritage and cultural landscape, through the implementation of circular models, can contribute to address climate change, fostering the ecological transition and the achievement of the European Green Deal objectives, as well as to enhance the beauty and attractiveness of cities and regions, generating positive impacts on the entire community, also in terms of wellbeing and increased quality of life.