Energy, Beauty, Participation: Cultural Heritage Adaptive Reuse as driver of Circular Regeneration and Sustainable Regional Development
We live in a period of complex interconnected challenges: ecological, social, cultural and poverty issues, together forming a global geo-political crisis. The search for a localised (or re-territorialised) and circular way of living has thus become urgent. However, this crisis can become productive if it enables us to develop new ideas and tools.
The circular and human-centred economic model can allow us to turn challenges into opportunities. It can be applied to territorial regeneration, fostering a paradigm shift in which economic values co-exist and co-evolve with social/human values to form a human-centred and circular strategy for territorial development.
Here, cultural heritage has a pivotal role. It contributes to cultural identity, shared values and wellbeing, which are fundamental for avoiding a societal crisis driven by forces of isolation and distrust, and it enhances the beauty and attractiveness of cities and regions.
The conference was an occasion to address these topics through a dialogue with researchers, policymakers, entrepreneurs, and civil society organisations.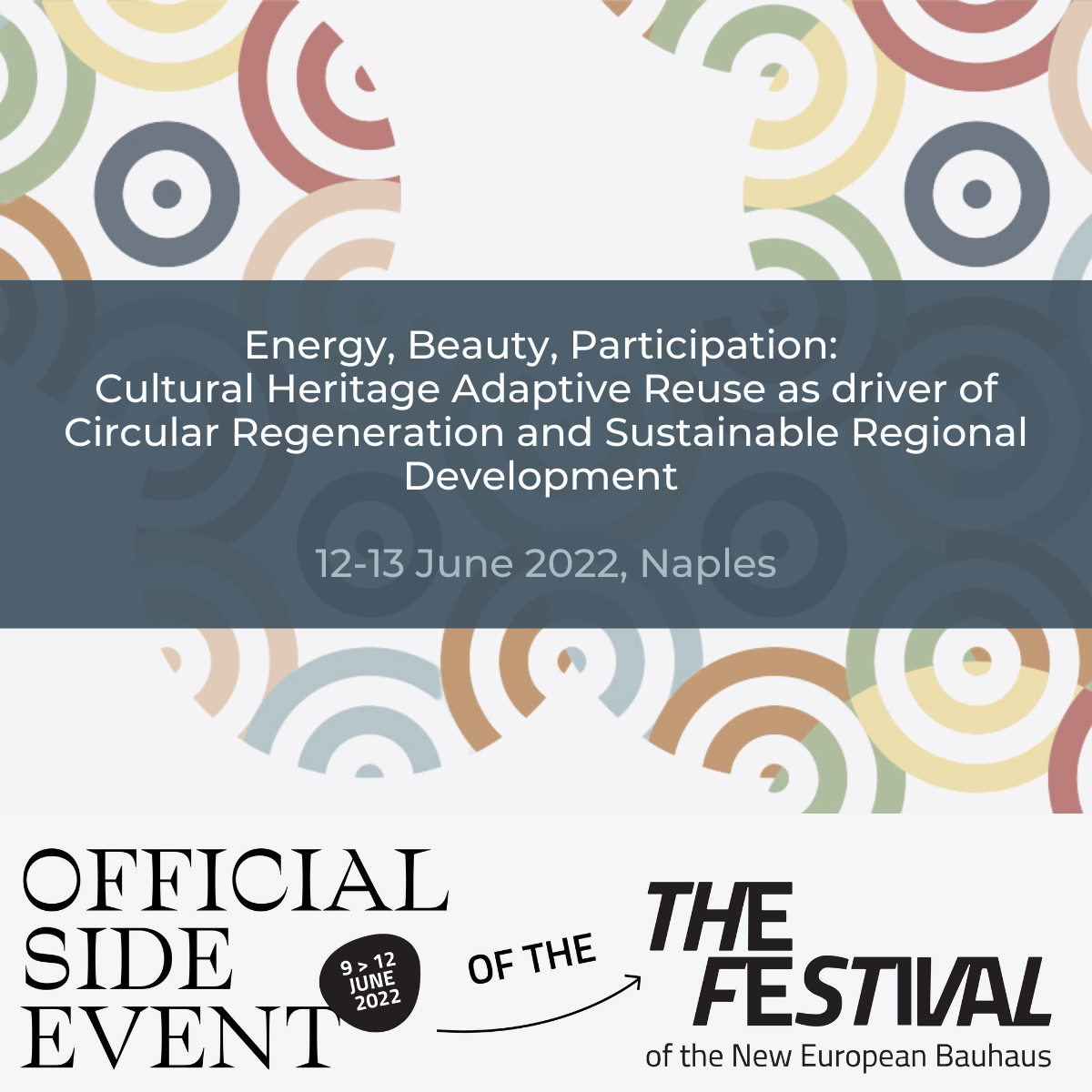 The event shared the results of European-funded research and innovation projects such as H2020 Be.CULTOUR and CLIC, coordinated by the hosting Institution, REFLOW, Open Heritage, as well as other international projects such as Charter and Cultural Heritage in Action, structuring a dialogue with policymakers, entrepreneurs and civil society organisations engaging them in the implementation of the circular human-centred model for urban and territorial regeneration.
The event was opened by Jorge Nieto-Angulo of the European Commission / REA, who gave an overview of the New European Bauhaus topics and how Be.CULTOUR project is linked to the initiative. Then, inspiring speeches of professor Luigi Fusco Girard, Emeritus Professor, and Andrew Potts, ICOMOS / Climate Heritage initiative, opened the Conference providing passionate insights on the circular model for cultural heritage regeneration and the urgency of tackling climate change under a cultural perspective, unlocking the potential of arts, culture and heritage for realizing climate-resilient futures.
The circular and human-centred economic model developed in the last years through European funded research can be the answer to cope with complex interconnected challenges, global geo-political crisis, as well as with the rapid changes occurring in the organisational structure of countries and territories, turning challenges into opportunities for our society. This circular model can and should be applied also to territorial regeneration, adopting a paradigm shift in which economic values co-exist and co-evolve with social/human values, thus allowing the implementation of a human-centered strategy for circular and sustainable territorial development. Instead of being a secondary element, cultural heritage has a pivotal role in addressing the current challenges As emphasized by a number of European Commission documents and policies (the New European Bauhaus itself, the European Cultural Heritage Green Paper, the European framework for action on cultural heritage, just to mention a few), cultural heritage recovery and adaptive reuse can become a driver of economic and social regeneration at local level supporting jobs creation, social cohesion and maintenance through building construction activities, cultural tourism, cultural and creative activities, local social economy, RD&I and knowledge economy. At the same time, cultural heritage and cultural landscape, through the implementation of circular models, can contribute to addressing climate change, fostering the ecological transition and the achievement of the European Green Deal objectives, as well as enhancing the beauty and attractiveness of cities and regions, generating positive impacts on the entire community, also in terms of wellbeing and increased quality of life.
These are the main topics the event focused on, conceived as an opportunity to deepen projects' themes, which were discussed by speakers from different project partners and international networks of cities and regions such as ICLEI and ERRIN, which highlighted the challenges for the implementation of the circular city from the point of view of local governments. In addition, the debate was intended as an opportunity for exchange with international organisations interested in cultural heritage such as ICOMOS.
As evidence of the enormous potential of circular human-centered development model, on Sunday, June 12, the international speakers took part to a guided tour to the Catacombs of San Gennaro, an archaeological site/religious heritage located in one of the most densely populated and characteristic neighborhoods of Naples, the "Rione Sanità". The Catacombs represent a perfect example of social regeneration strategy where the recovery of a cultural heritage site has launched a cultural, social and economic revolution promoted by local people with an intervention of social inclusion and enhancement of a common good for the development of a community in a particularly difficult area.
Agenda:
10:30-12:00 h | Session 1 Energy, beauty, participation towards the New European Bauhaus: the adaptive reuse of abandoned and underused heritage sites as a strategy for the circular city
Luigi Fusco Girard - Emeritus Professor, Horizon 2020 CLIC project Scientific Coordinator | Circular economy and cultural dimension through the adaptive reuse of cultural heritage: towards the New European Bauhaus
Cristina Garzillo - ICLEI Europe – Local Governments for Sustainability | Place-based approach, experimentation and circular governance in the adaptive reuse of heritage sites
Anna Domaradzka, Magdalena Roszczynka - University of Warsaw, Institute for Social Studies | Liveability and social sustainability framework for circularity, health and wellbeing
Paolo Ciambelli - Emeritus Professor, University of Salerno | Energy issues in Cultural Heritage adaptive reuse
Cristiana Parisi - Copenhagen Business School, Horizon 2020 REFLOW Coordinator | Measuring the social impact of circular economy interventions at the urban level: evidence from the REFLOW project
Hanna Szemző - Metropolitan Research Institute, Horizon 2020 OpenHeritage Coordinator | Human and community-centred adaptive reuse: where its strengths lie and what is unrealistic to expect?
Christian Ost - ICHEC Brussels Management School | Circular business models to enhance cultural heritage sites from an entrepreneurial perspective – economics of conservation in the times of ecological transition
12:15-13:30 h | Session 2 Enhancing remote and less-known cultural heritage sites through circular and humancentred cultural tourism
Antonia Gravagnuolo - Horizon 2020 Be.CULTOUR Coordinator | Towards circular and human-centred cultural tourism: the experimentation of Be.CULTOUR
Gaia Marotta - ERRIN European Regions Research and Innovation Network | Building a Community of innovators in circular cultural tourism
Anna Salvagio - Community Cooperative "Identity and Beauty", Sciacca5Sensi, Sciacca, Italy | The experience of Sciacca 5 Senses open-air museum: the role of local community networks for a circular, human-centred and cultural tourism
Pauline Alexopoulou - ANETEL Larnaca and Famagusta Development Agency | Action Plan co-development for circular cultural tourism in the rural area of Larnaka, Cyprus
Patrizia Riganti - Professor in Tourism, Glasgow University | Cultural tourism innovation and blue economy: evaluation approaches
Raffaele Vitulli - Basilicata Creativa / MateraHub | Circular cultural tourism innovation in Basilicata, Italy
14:30-15:45 h | Session 3 New European Bauhaus: landscape, design and architecture enhancing cultural identity and beauty towards circular and human-centred cities
Marco Acri - University of Nova Gorica, Partner of Horizon 2020 CLIC and URBiNAT projects | The aesthetic dimension of circular heritage adaptive reuse: from waste to taste
Sara Martignoni - Veneranda Fabbrica del Duomo di Milano | An European alliance for cultural heritage skills: the Charter project
Amleto Picerno Ceraso - Medaarch, CAD Centre for Digital Artisans | Rescaling urban manufacturing for post-industrial and circular economy: the example of the Center for Digital Craftsmanship
Francesca Pozzebon - ERRIN European Regions Research and Innovation Network, Cultural Heritage in Action project | Towards a European learning community on cultural heritage
Marcella De Martino - Senior Researcher, CNR IRISS | Adaptive reuse of religious heritage in Naples: the experimentation of "Ad Maiora" project
Raffaele Lupacchini - Director of European Funds of the City of Salerno, Partner of Horizon 2020 CLIC | The circular adaptive reuse of cultural heritage in Salerno
Aliona Lupu - Iniziativa Cube | Public-private-people partnerships cooperation towards circular finance for cultural heritage
16:00-17:00 h | Session 4 Evaluation methods for cultural heritage adaptive reuse and regeneration in the circular economy perspective
Francesca Buglione, Martina Bosone, Mariarosaria Angrisano - University of Naples Federico II, CNR IRISS, Pegaso University | Opportunities for cultural heritage adaptive reuse: towards the definition of "satisfying project" for Edifici Mondo in Salerno, Italy
Valentina Apicerni, Valentina Castronuovo - CNR IRISS | Data analysis for circular cultural tourism: an experimentation in six European pilot heritage sites
Francesca Nocca - University of Naples Federico II | Circular economy and cultural heritage conservation: a proposal for integrating Level(s) evaluation tool
Eugenio Muccio, Giuliano Poli - University of Naples Federico II | Circular, Cultural and Creative City. A Multi-dimensional Decision Making Process for Metropolitan Regeneration Strategies
Sabrina Sacco - Stefania Regalbuto, University of Naples Federico II | A Decision-Making Process for Circular Regeneration of The City-Port: The East Naples Case Study