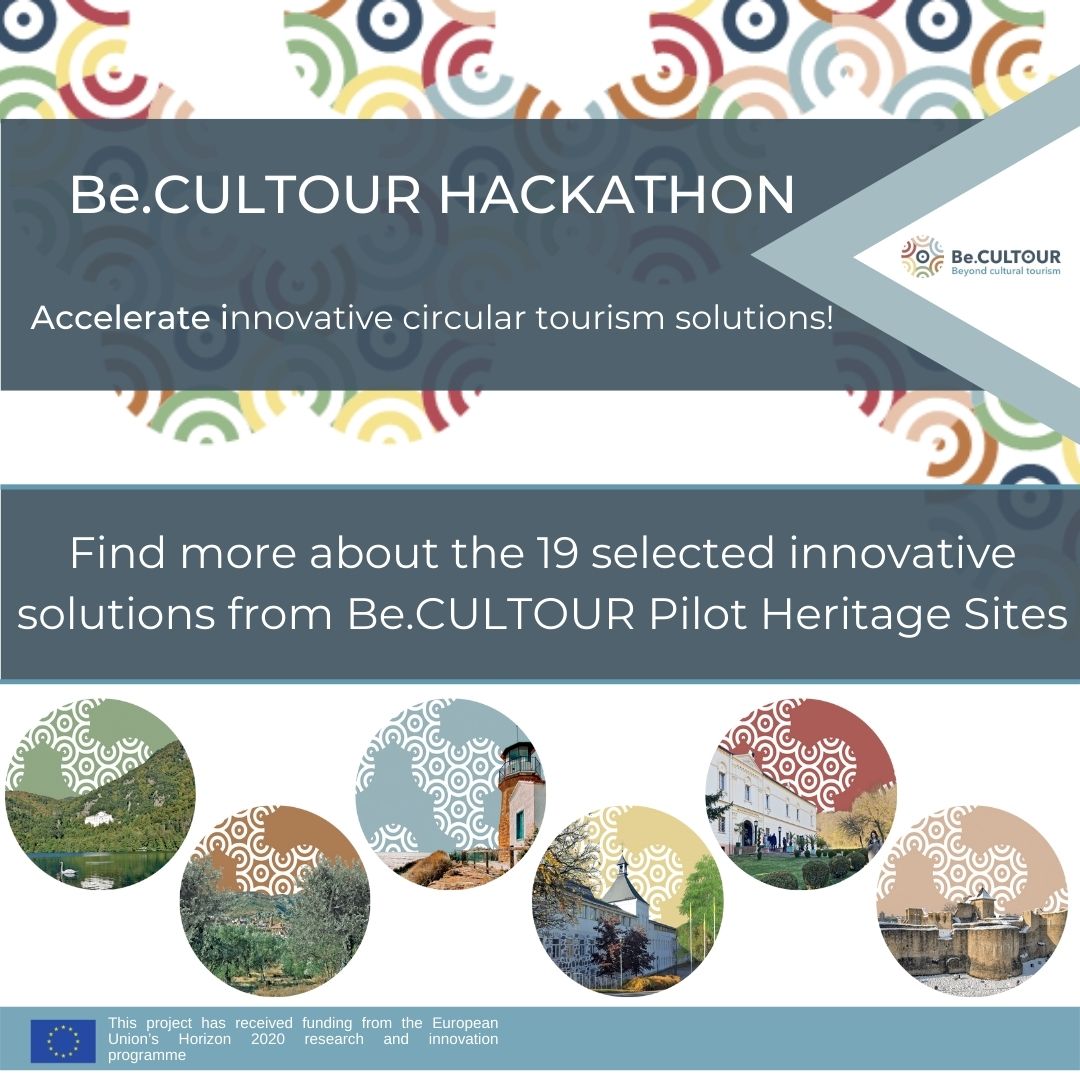 Find out more about the 19 selected innovations that joined the Be.CULTOUR Hackathon in Brussels from 7 to 9 September!
Selected innovators will be given the opportunity to access the Be.CULTOUR Accelerator, a training programme of 4 months in which they will have the possibility to develop their innovative solutions to a close-to-market stage.
Starting from the challenges identified in/by the targeted deprived, remote or over-exploited areas, the selected participants will develop circular cultural tourism services and/or products that will focus on creating attractive destinations.
Find more about the jury members and the awards here.
Eager to learn the result of the online voting? 2083 votes have been cast!
The five juries evaluated 10 innovation areas. If you missed the live streaming, you can watch it here
Pilot Heritage Site:
Vulture-Alto Bradano area, Basilicata Region, Italy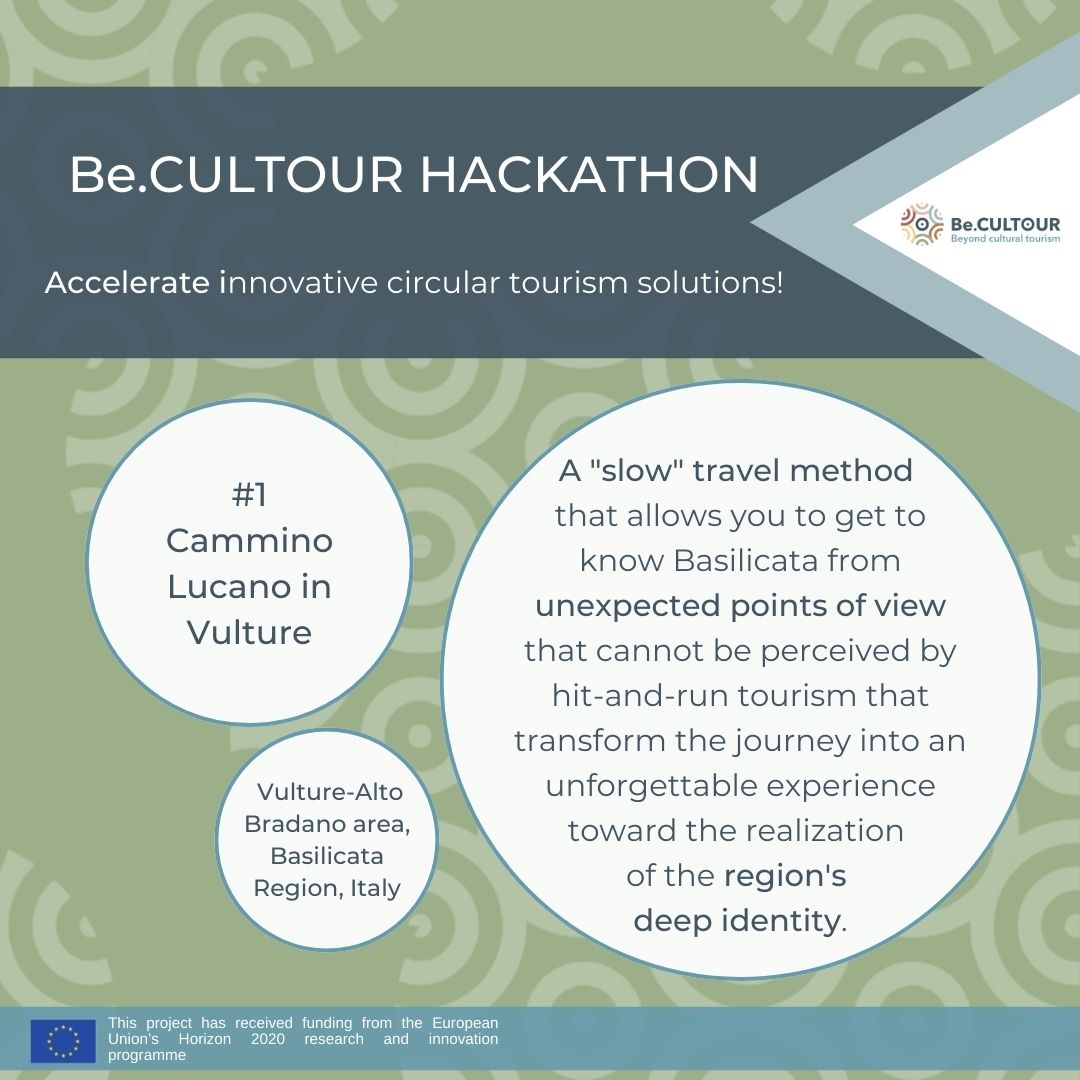 #1 - Cammino Lucano in Vulture
We promote a "slow" travel method that allows you to get to know Basilicata from unexpected points of view that cannot be perceived by hit-and-run tourism that transform the journey into an unforgettable experience, towards the realization of our deep identity.
Our work is projected towards the creation of a cultural path capable of providing a tourist experience connected to the intimate and deep stretches of Lucania through the Municipalities of: Melfi, Rapolla, Barile, Ginestra, Ripacandida, Rionero in Vulture, the lakes of Monticchio, Atella and San Fele.
Later it will be projected towards the realization of a real physical journey among the memories of a world that no longer exists, immersed in the beauty of the nature of Lucanian creation, to the rediscovery of the Marian representations dedicated to Santa Maria di Costantinopoli in Ginestra and Barile, the sanctuaries of Atella and Melfi where the Marian representations with a dark complexion are kept, without forgetting the most important sanctuary of Lucania dedicated to San Michele in Monticchio lakes.
Our research has investigated the celestial reasons for the arrangement of the churches of Santa Maria di Costantinopoli, of the ancient places of worship dedicated to San Michele and the Black Madonna, which in a mirror-like manner underlie the constellation of the Pleiades.
This is the suggestive, almost artistic idea; which seeks in what is "designed" in Heaven for something plastically made on Earth by our ancestors, is the core of our research: Heaven and Earth ideally connected to suggest a unique Marian Way.
The work carried out in the implementation of the Way will serve to consolidate the services offered by the various reception structures already present in the area, and to give impetus to the birth of new activities, to develop that fullness of the response, to the growing demand represented by new tourist flows, again to be fully implemented on the territory.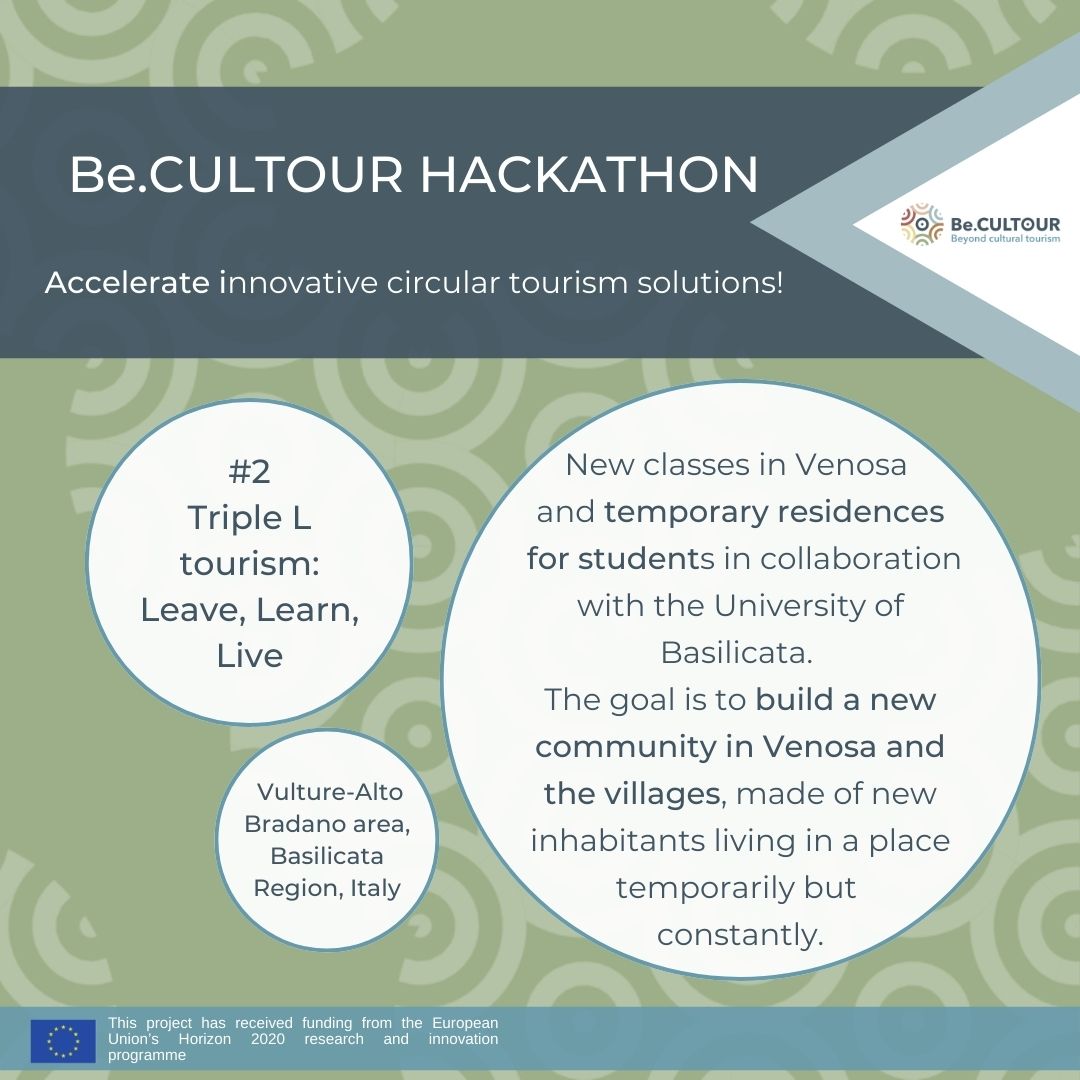 #2 - Triple L tourism: Leave, Learn, Live
The proposal consists in organizing classes in Venosa of temporary residences for students (Italians and foreigners, in particular for the latter, opening the possibility that they can carry out the entire Erasmus period in the location chosen) in collaboration with the University of Basilicata.
To the students of the various fields (in particular cultural heritage operators, techniques for building and land management, agricultural technologies, forestry and environmental sciences, landscape-environment and urban greenery, engineering for the environment and the territory, anthropological and geographical sciences for cultural heritage and the enhancement of territories, European history and civilization, architecture…) will be asked to invent, experiment, create urban, environmental and cultural projects to enhance and promote above all the Via Appia and Herculea and forms of tourism linked to slow movement (aimed at walkers and bikers). The idea is to create a new community in Venosa and then in the villages, through living in a place temporarily but constantly.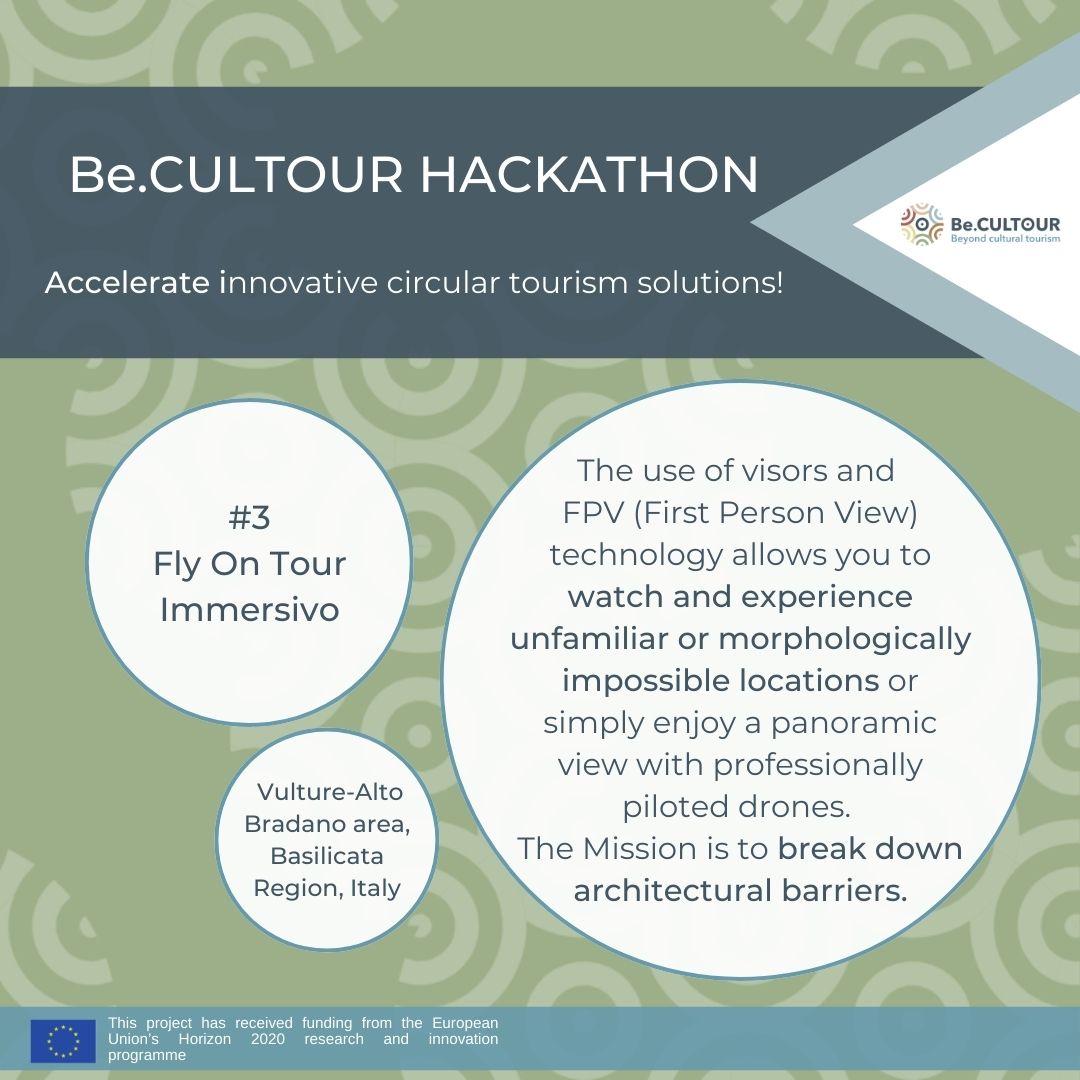 #3 - Fly On Tour Immersivo

FlyOn is passion for flying, for authentic knowledge of places, for the exploration of inaccessible areas, for accessible tourism. The use of visors and FPV (First Person View) technology allows you to watch and experience unfamiliar or morphologically impossible locations or simply enjoy a panoramic view with professionally piloted drones. Our Mission is to break down architectural barriers, giving people with motor disabilities the opportunity to visit inaccessible places.
Pilot Heritage Site: The cultural park of Rio Martin,
Teruel province, Aragon region, Spain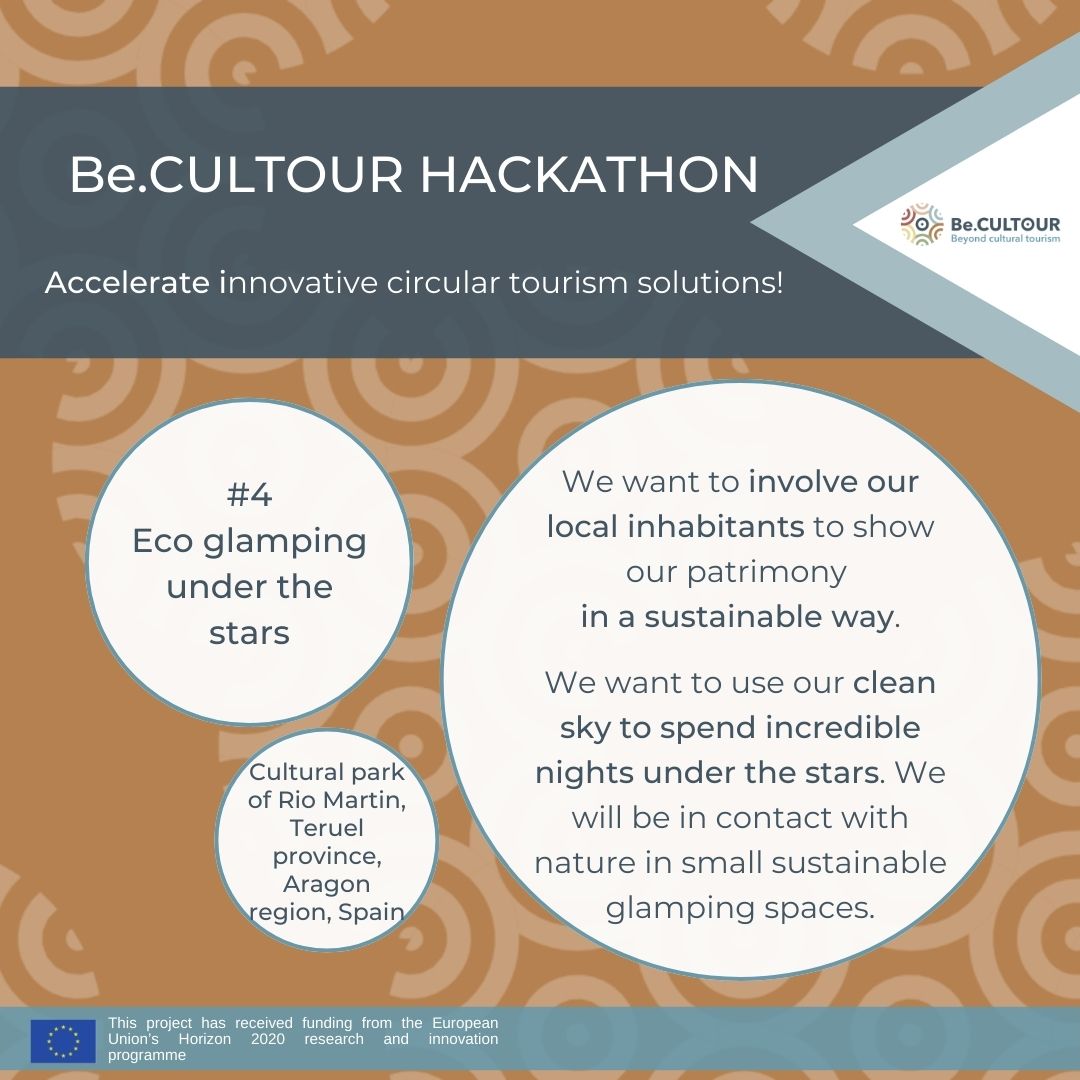 #4 - Eco glamping under the stars
We have an incredible landscape that is fairly unknown. We want to involve our local inhabitants to show our patrimony in a sustainable way. We have local artisanal products. Local guides, local people and local food which will provide a unique experience.
We want to spread our word and our nature all around Spain. We want to use our clean sky to spend incredible nights under the stars. We will be in contact with nature in small sustainable glamping spaces.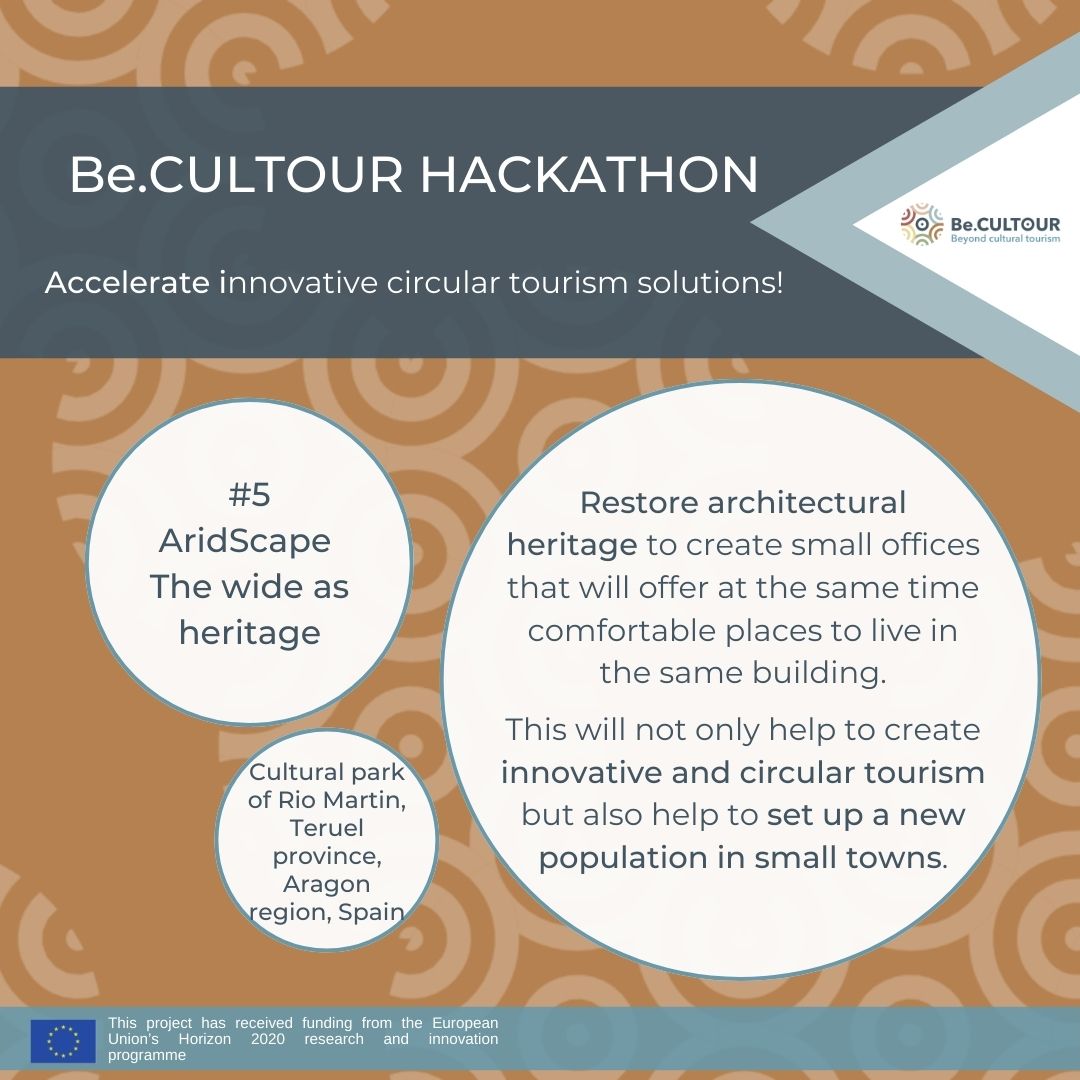 #5 - AridScape The wide as heritage
Our proposal is based on the necessity of people to work, to live and to enjoy nature and heritage.
Our aim is to restore architectural heritage not monuments but vernacular architecture and create small offices to bring people to work, offering at the same time a comfortable place to live in the same building. We think that if we get to do this we could work in different projects about architectural heritage and landscape which could create positive impact, increasing the possibilities of new sustainable tourism.
While people are working in their offices, they could even collaborate in projects out of the computer, learning about traditional materials and constructive techniques through the restoration of stone and sand walls, giving them some notions about that through practical courses.
This experience not only help to create an innovative and circular tourism, but it also helps to set up new population in small towns.
In this proposal we want to take advantage of our wonderful landscape, a landscape of sand, mood, and drought tolerant plants. This type of landscape offers us a really wide vision which is difficult to find in the rest of Europe, with almost no roads, no towns, no lights and a really clear sky at night. But this arid landscape offers us also all those materials to restore our more valuable heritage: our traditional architecture.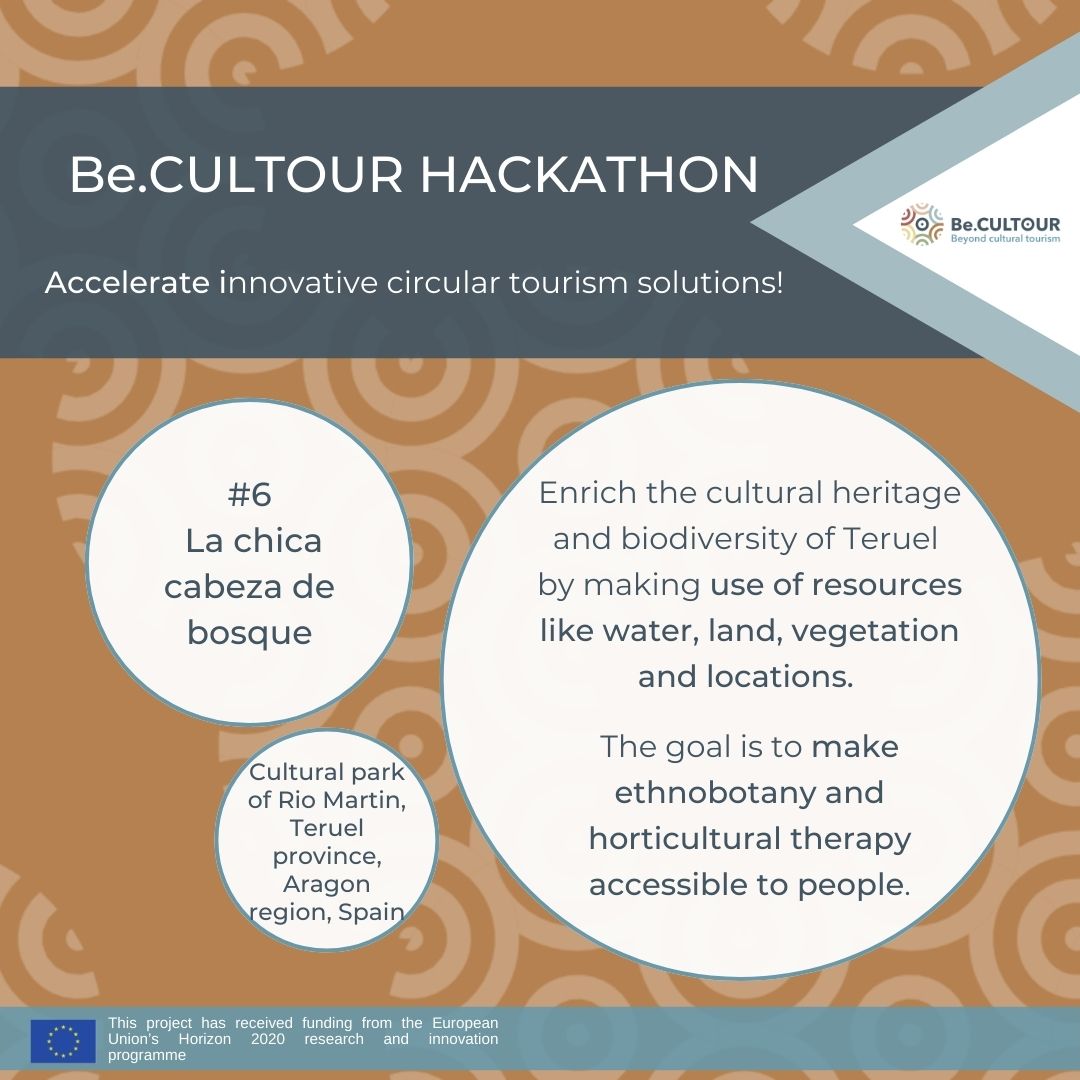 #6 - La chica cabeza de bosque
Our project "La Chica Cabeza de Bosque" –which in Spanish means "The Forest[1]Headed Girl"– is composed by Ana, Edurne, Sara and Beatriz, four people that came from diverse locations and share a common objective: to highlight the positive elements of our homeland such as the cultural, social and ethnographic components. Our main objective, and the reason why we created "La Chica Cabeza de Bosque", is to enrich the cultural heritage and biodiversity of Teruel by making use of resources like water, land, vegetation and locations. We aim to make ethnobotany and horticultural therapy accessible to people so that it gives value, growth and development not only to our area but also to the people interested in our work. We want to bring our knowledge about plants, flowers and trees closer to the people by emphasizing their benefits in human health from a holistic approach to mental health.
Pilot Heritage Site: Larnaca rural cultural landscape,
Larnaca Region, Cyprus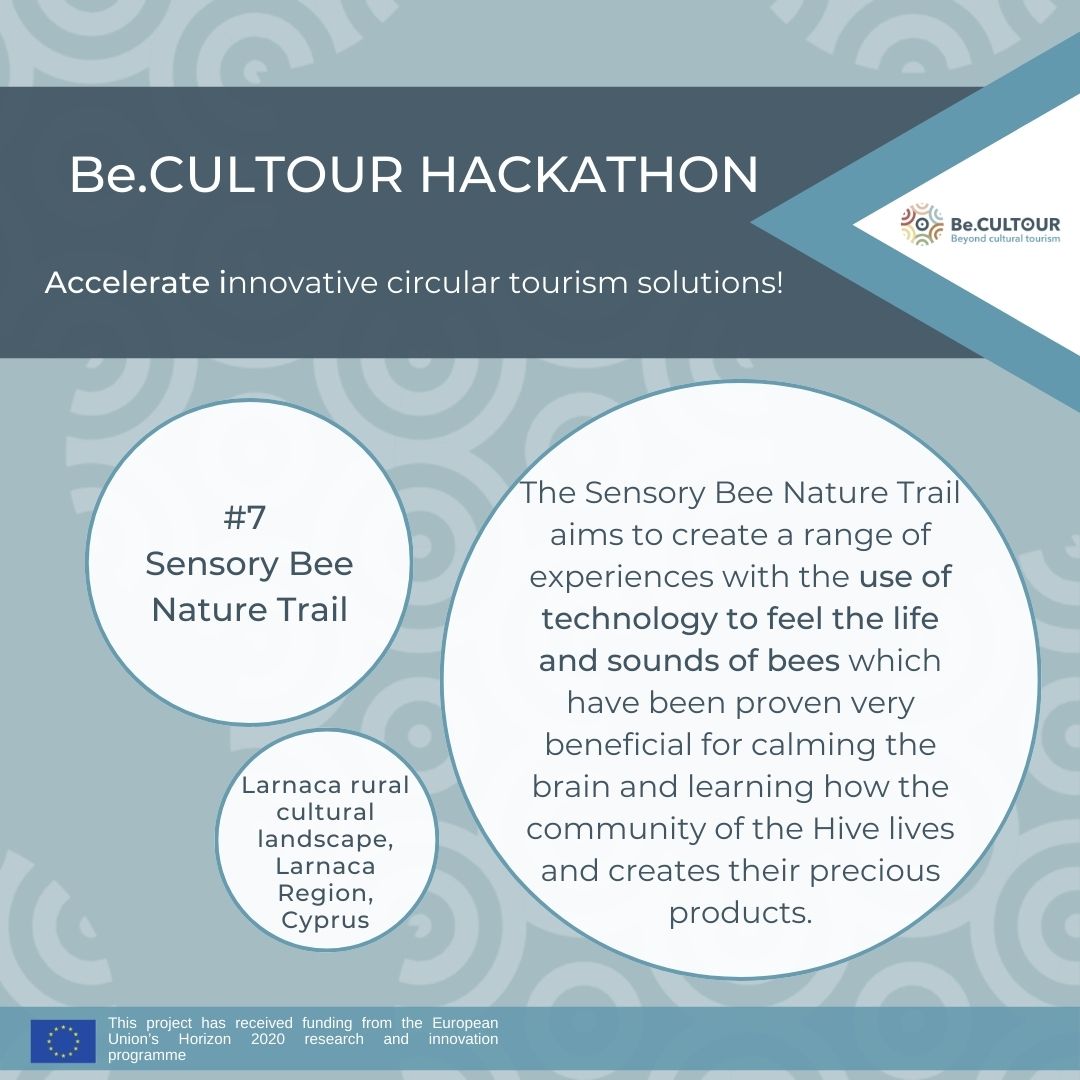 #7 - Sensory Bee Nature Trail
Troodos Network in cooperation with the Deputy Ministry of Tourism and Larnaka Tourism Board, have developed the Honey Routes, a network of 9 villages with the highest density of Beehives and Beekeepers due to the amazing landscape and flora of the area. A lot of experiential workshops are organized in the area, 3 Festivals, are taking place every year, the first one in May is aligned with the World Bee Day and is
devoted to the importance of Bees as pollinators for the existence of our planet, the second one in June is devoted to the products of the Hive and Beekeeping and the 3rd one in September is devoted to Bees and children so that environmental culture and awareness is created from the very young stage.
Each festival attracts 4,000 visitors and bring to the area a substantial income which is extremely beneficial for the area and the Beekeepers bearing in mind that these villages were completely unknown before this initiative and the lack of public transport and distance from cities is an obstacle for rural tourism. Beekeeping is not simply a way of survival in the area for the young keepers who have decided to practice it as a
profession, but also a part of their cultural heritage, as it has been practiced for centuries and honey is used in ways and recipes that can only be found in the area. Continuous efforts are taking place for the upgrading of the Honey Routes, by training and capacity building of the local communities, encouragement of the women to create micro business based on their skills and their natural resources, protecting the environment, but also upgrading the area with innovative tools, which will create unique experiences for the
visitors. The aim of the Sensory Bee Nature Trail is to create a range of experiences with the use of technology to feel the life and sounds of bees which have been proven very beneficial for calming the brain and learn how the community of the Hive lives and create their precious products.
#8 - Needle Festivals
Year-round festivals with the mission to discover and explore Cypriot identity through cultural,
entrepreneurial and sports activities. While embracing the rural landscape, the festivals will disrupt the status quo as social opportunity spaces for participants, to explore and elaborate on Cypriot identity: how it appears in daily life, sound, taste, and aesthetic through sensorial experiences and emerging relationships. The seasonal thematic events will aim at building a tight-knit community from the bottom up, by connecting artists, entrepreneurs, traditional businesses, the elderly and athletes. Through a holistic experience that will include artisan workshops, nature exploration activities, camping, art exhibitions, music festivals and many more. The festivals will provide an environment for questioning, observing, networking and experimenting and its driving force will be a creative community that will bring people together to explore and embrace their roots, traditions and history. Territorial innovation in this case can be achieved by bringing the society together, mixing the boundaries of arts, culture, sports and business fields for social interaction and ideation.
Needle Festivals will therefore facilitate a learning experience that will be based on connecting diverse people with nature through fun and play activities to celebrate learning and knowledge transfer in a safe environment. The mission is to expand the serendipity field of Pervolia area by creating social opportunistic spaces. Our business model is based on connections and networking and we vision to facilitate a community.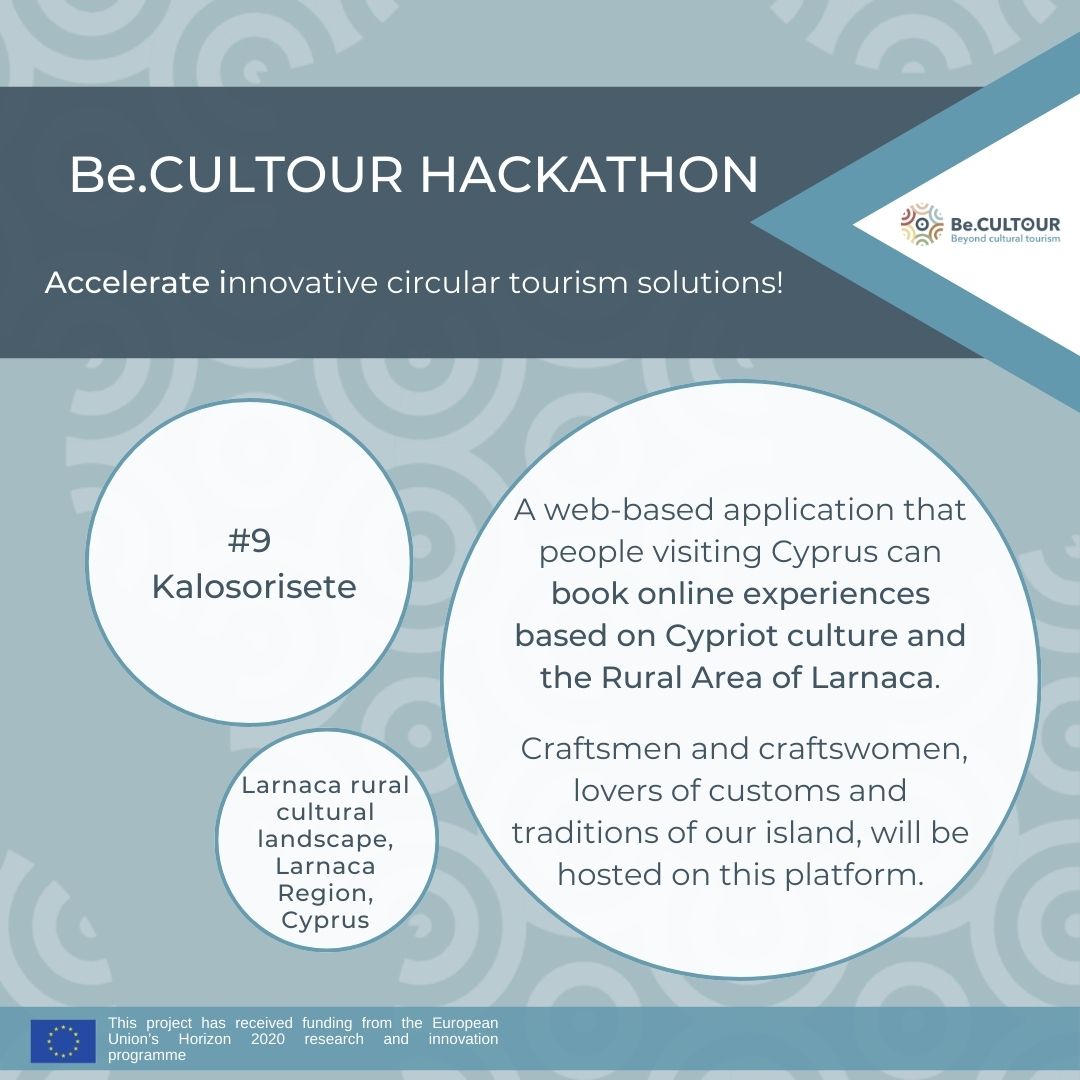 #9 - Kalosorisete
A web-based application, that people visiting Cyprus can book online experiences, based on Cypriot culture, and the Rural Area of Larnaca.
The system will have a back end and a front-end side. People hosting the experience will be able to manage their bookings and incomes. On the front side visitors will see all the information of the individual experience and book and pay on the spot.
kalosorisete wishes to give opportunities and extent the working horizons of people in rural areas. Craftsmen and craftswomen, lovers of customs and traditions of our island will be hosted on this platform.
There might be other platforms that offer experience to tourists. Our aim is to offer authentic Cypriot experience to visitors, to curious people that wish to explore Cyprus beyond sun and sea. We wish to improve the standard of living for rural people in terms of the environment they will live in. The whole process will be based on a mobile application that both visitor and host will be able to manage their bookings and available products. The application will be available for android and IOS users.
All suppliers / hosts by default must be locals. They are those who know the customs and traditions and wish to promote this to travellers. To the best extent possible, the locals could employ locals and further we will use the saying "leading by example". People in the rural area of Larnaca will see the benefits these people have by participating on this platform and they might wish to join.
Employing locals is at the heart of what we do. We believe in the power of the circle economy and recycling. We strongly promote the re-use of products and materials or if this is not possible, we promote the policy of recycling.
Pilot Heritage Site: Forsvik and Rydal Industrial
Heritage Sites, Västra Götaland Region, Sweden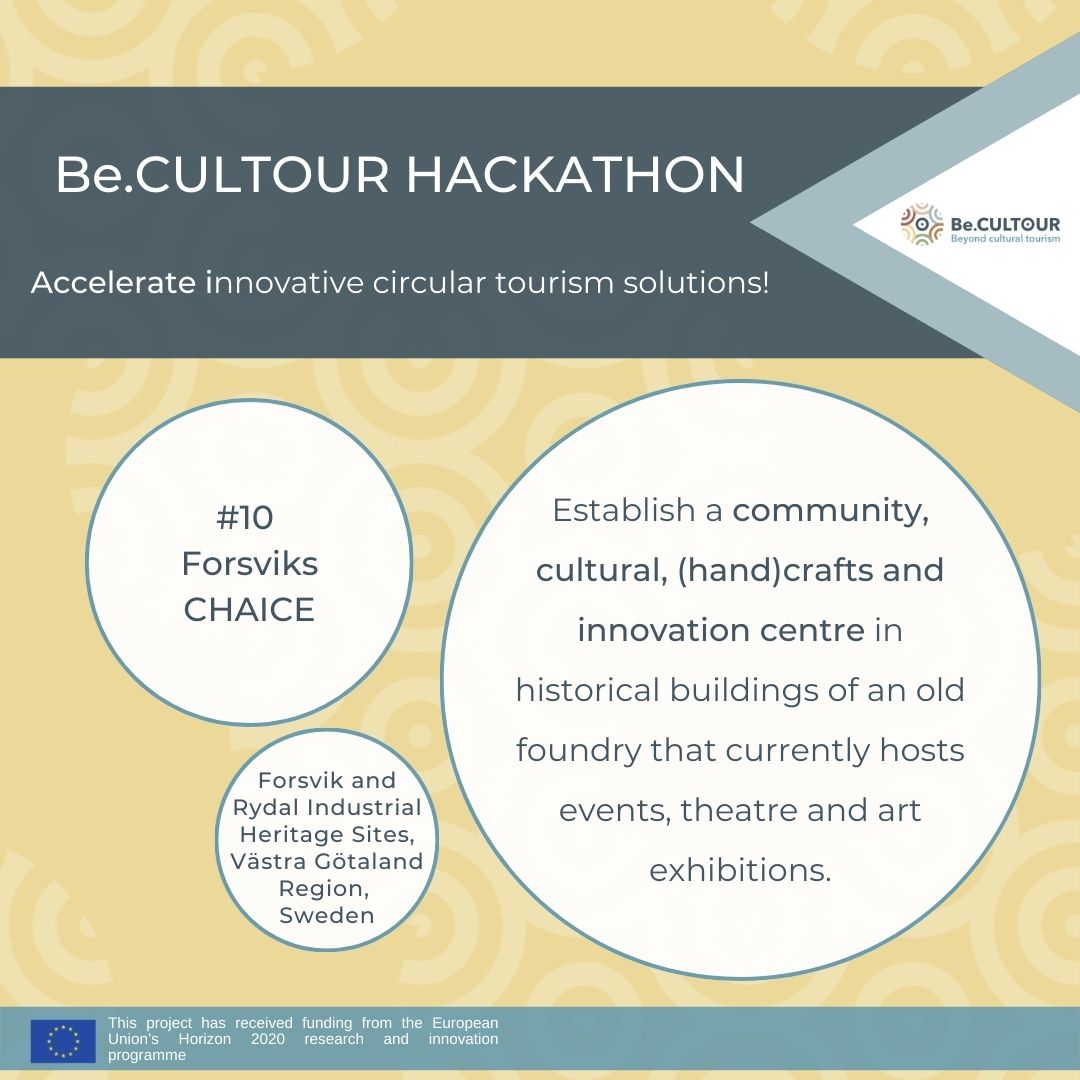 #10 - Forsviks CHAICE
Forsviks Cultural Heritage, Arts and Innovation Centre (CHAICE)
The idea is to establish a community, cultural, (hand)crafts and innovation centre in the located historical buildings of an old foundry which currently "just" host events, theatre and arts exhibitions. We see potential for a future rural equal and included meeting place to add a cafe, seminars, education lessons, leisure time facilities for children, teenager and young grownups and "tankesmedja" (think tank) workshops, as in a base for new ideas which shall perpetuate the Be.CULTOUR project.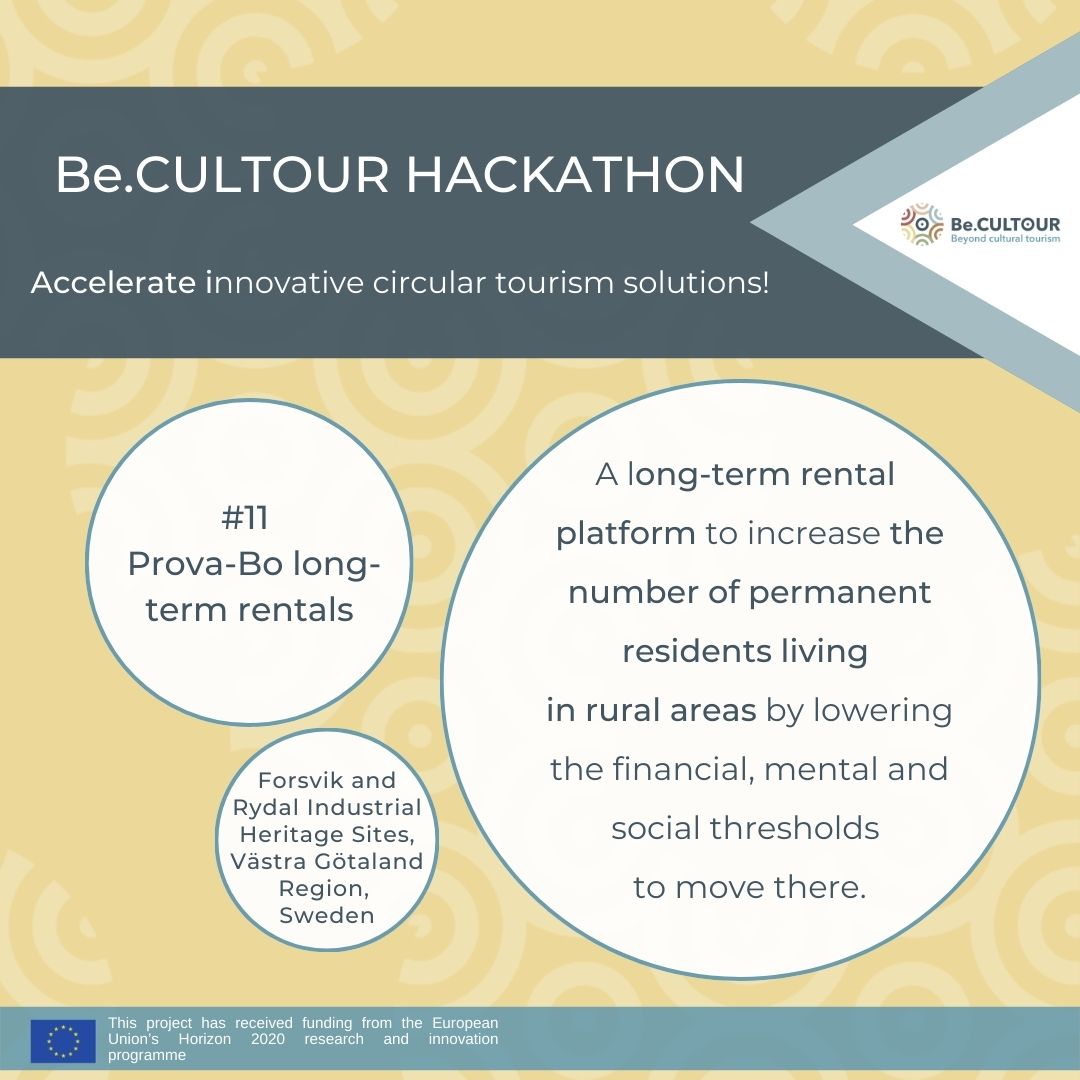 #11 - Prova-Bo long-term rentals
Our proposal "Prova-Bo" (translated to "Try-Living") is a long-term rental platform with the goal of increasing the number of permanent residents living in rural areas by lowering the thresholds to move there both financially, mentally and socially.
Local communities in rural areas struggle with depopulation due to urbanization and an aging population. As they become more dependent on attracting tourists to survive, the identity of these places change. With our project we hope to strengthen the local communities' action of power to shape their own future.
At the same time, we see that many people are willing to move from the cities to rural areas. However, big parts of Sweden remain anonymous and since buying is the norm in the countryside, the threshold for moving can therefore be big.
With Prova-Bo we want to show how we can meet current needs and challenges based on what already exists and by threatening the built environment as a scarce resource. What we have seen is that in many places residential buildings can be used in a more efficient way that benefits both the house owners and the local society.
Through Prova-Bo new rental apartments can be created within the existing housing stock. It could be a regional or even global platform to which local communities through a local association can connect and present themselves. When visiting the platform online people looking for a place to settle down can read more about the connected local communities with available rentals. On site all private rental options are gathered and administered by the local association in close relation to the house owners. Part of rent goes to the local association for common development projects.
The platform supports an increased number of year-round residents and thereby strengthens important services throughout the year such as grocery stores, schools, public transport etc. and by that, their dependency on tourism is reduced.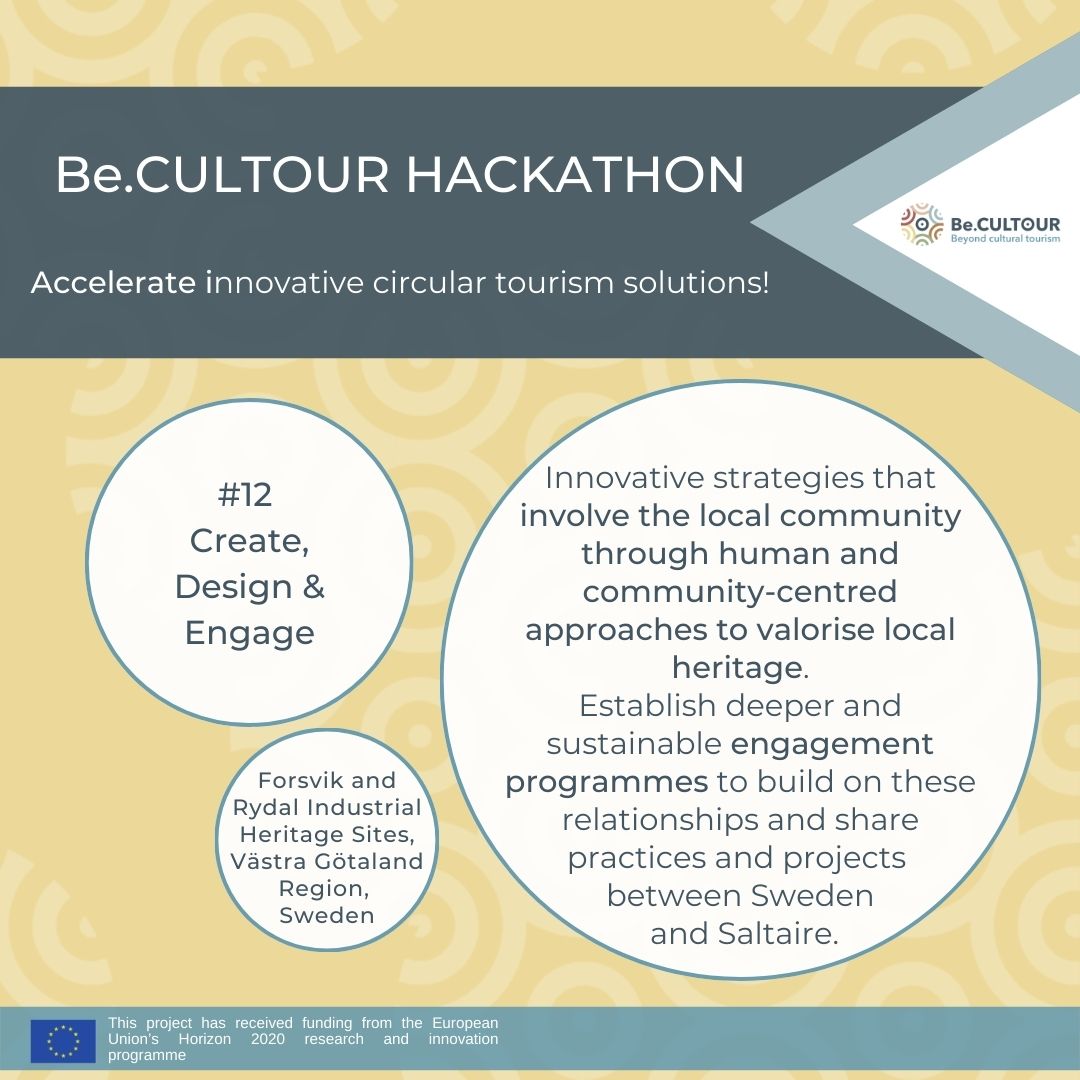 #12 - Create, Design & Engage
There are many similarities between Rydal, Sweden and Saltaire, UK, starting with both Mills at the heart of each community were built in 1853. The two locations have a tradition of industry contributing to cultural heritage of the respective locations. This industrial cultural heritage infrastructure provides an interesting canvas for creative and cultural exploration for artists, that provides a unique stimulus for the creation of contemporary community narratives and generate interesting experiences for residents and visitors.
Saltaire Inspired has been identified as utilising innovative strategies that involve the local community through human and community centred approaches to valorise local heritage. This project application is to establish deeper and sustainable engagement programmes to build on these relationships and share practice and projects between Sweden and Saltaire. We would like to develop a conceptual framework of the process of establishing an international partnership and share an understanding of this process for replicability in our respective regions as well as beyond. At the heart of this programme there is a commitment to exploring the process of creating sustainable circular cultural tourism experiences - 1. physical gatherings between artists and the local community leading to co-created programme design, development and implementation; 2. professional development opportunities identified by participants, and 3. publications, digital tools and exhibitions of work. We believe that student internship opportunities should be built into the programme to ensure the nurturing of young people, succession planning and ensuring learnings are not lost.
The main challenge for us is thinking about a) firstly, what is important for us to know about ourselves and each other, b) which tools should we adopt to communicate effectively that gives us both the autonomy as well as connectivity, and c) developing an effective methodology to gather the learnings so that the innovations can be replicated.
Pilot Heritage Site: Bač, Sremski Karlovci
and Irig inVojvodina Region, Serbia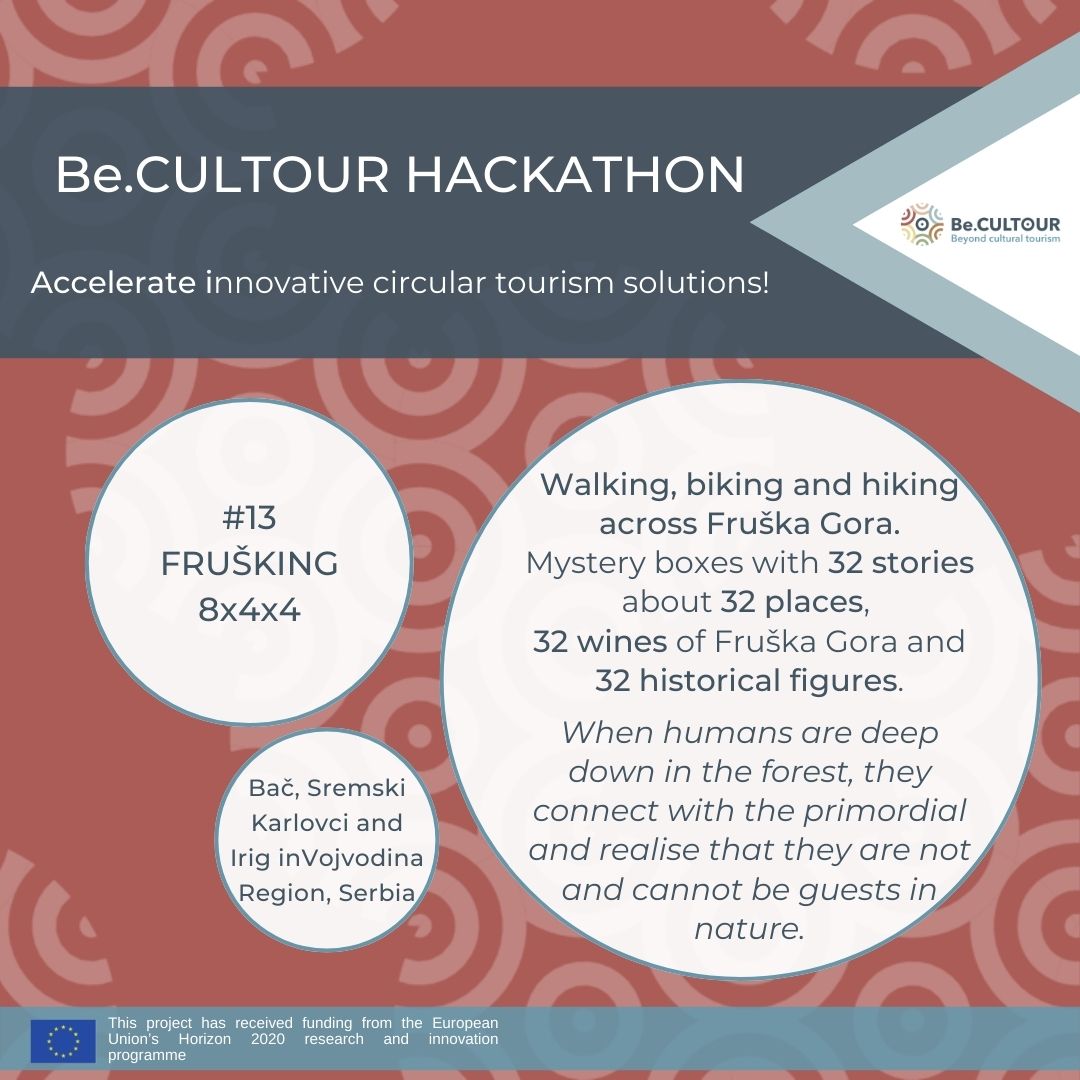 #13 - FRUŠKING 8x4x4
What is Frušking 8x4x4?
Frušking is a new word in the Serbian language, which we invented for the need of the project within the Be.CULTOUR competition. The first part of our neologism comes from the adjective fruški – which means belonging to Fruška Gora. Additionally, the term represents flirting with English because it is associated with English words ending in –ing, such as: walking, biking, hiking… When you add everything together you get walking, biking and hiking across Fruška Gora. Besides addition, there is also multiplication: 8x4x4. These are the dimensions of the mystery box which the tourist will get when they visit us. When the box is opened out there are 32 stories inside about 32 places, 32 wines of Fruška Gora and 32 historic figures. All this in such a small box? Yes, and there is also room for one more thing and a few more possibilities: a map facing the east (because the word orientation originated from the word orient and also Tolkien wrote that dwarves made maps in this way); a possibility to travel by luckand one more possibility – to determine the route after a thorough research and by one's own choice. And what if the choice is happiness? Then you are on the right track. Frušking is a remedy for frustration and a stress reliever. When a human is deep down in the forest they connect with the primordial and realize that they are not and cannot be a guest in nature. Following the map facing the east the tourist reconnects with one's self.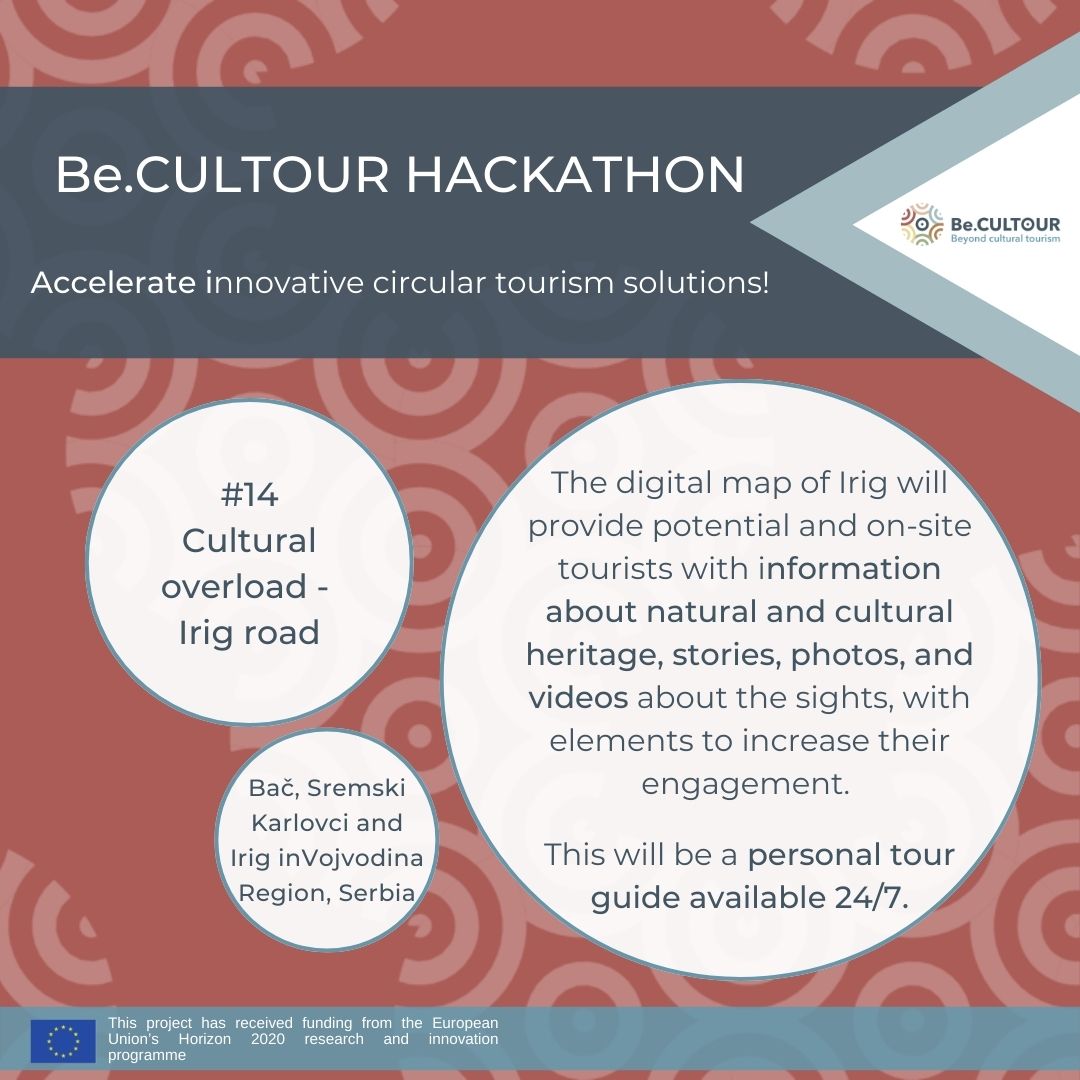 #14 - Cultural overload - Irig road
The digital map of Irig will provide potential and on-site tourists with information about natural and cultural heritage, stories, photos, videos about the sights, with elements to increase their engagement. This will be a personal tour guide available 24/7. It involves creation of new tourism product – selection of attractions which would be the part of digital map of area and education of suppliers to be the part of tourism product.
Selected suppliers will be educated to offer standardized product.
Attractions will be described.
Each visit will be personal and memorable with customized welcome and exit messages.
The platform will have option to send Push notifications to all visitors in destination to alert visitors to a special point of interests, event or promotion.
Digital map will offer location-based interactive games that visitors can play, ensuring a new opportunity for further bringing of groups for team buildings, to attract new segments during workdays.
Every visitor will leave the area with a shareable video moment of their visit incorporating destination branding. This is automatically generated from the pictures and videos that the visitor takes during their time in destination.
The platform will allow tourism policy makers to see the location of the visitors in area at any given moment. This will help control crowding and see what points are the most popular and how long they keep visitors on the spot. Besides that, this will be an easy opportunity to get feedback from the visitors. This will be an important trigger for the tourism policy makers for future steps – which points are the key attractions.
This application will have the opportunity for tourists for social responsibility – information for fundraising for cultural heritage.
There is a possibility of generating more revenue by booking tickets and accommodation offered via platform.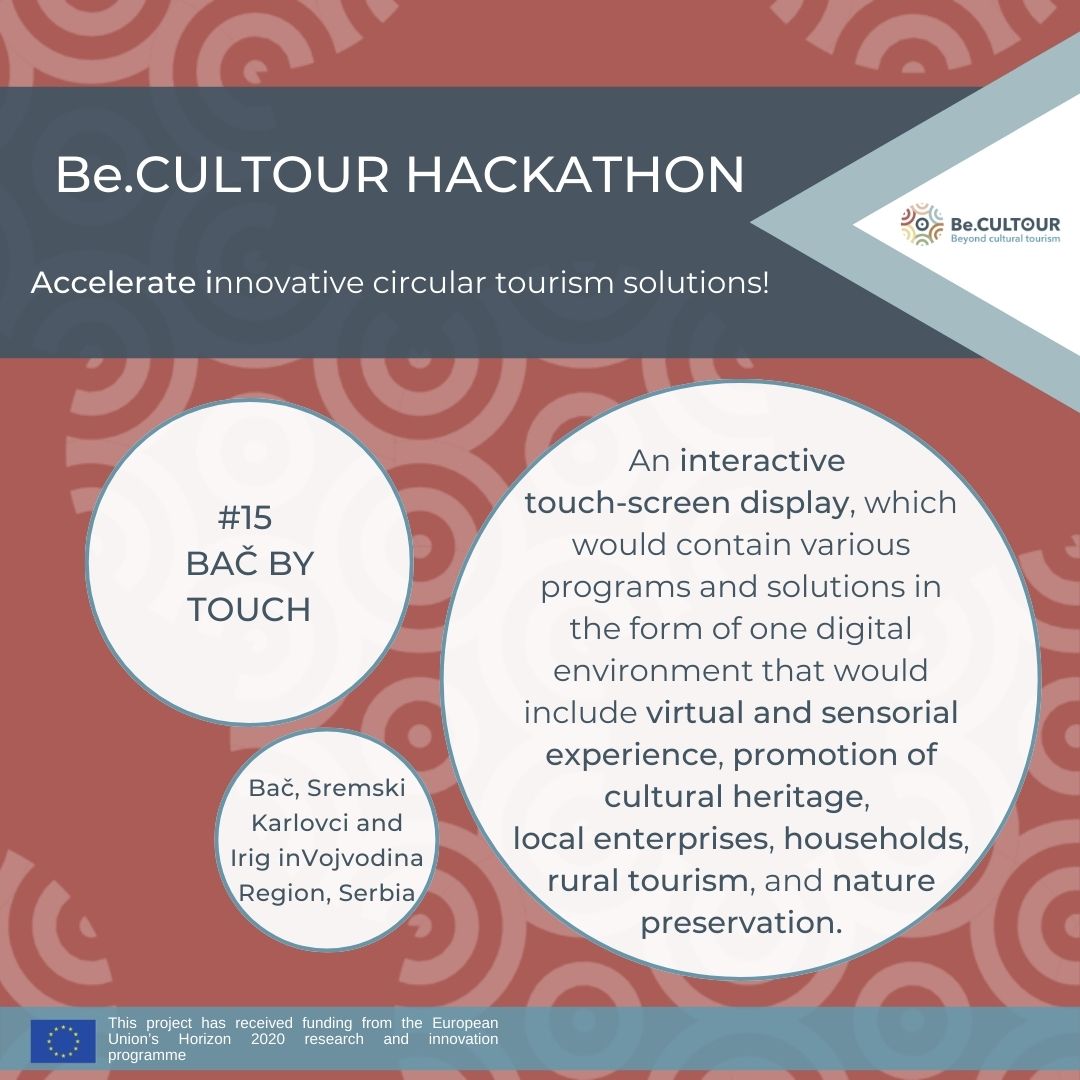 #15 - BAČ BY TOUCH
After years of experience of working and volunteering in cultural institution, heritage sites, travel and youth organisations, we have thought of this project as a proper implementation of contemporary experience for tourists who seek modern solutions in tourism. During the COVID pandemics, all of us have noticed the increased need of remote and digital solutions in tourism and cultural preservation. In the aspect of digital technologies, in the recent years, especially in the smartphone industry, "touch" technology has been widely used and especially viable in the younger population.
We have come up with an idea to make an interactive touch-screen display, which would contain various programs and solutions in the form of one digital environment, that would contain virtual and sensorial experience, promotion of cultural heritage, local enterprises, households, rural tourism, and nature preservation. In regard to virtual and sensorial experience, our plan has been to make virtual environment where it would be possible to experience many aspects of medieval life at the Bac Fortress, which also contains 3D dynamic audio, characters that will be responsive to a set of questions about the Bac area, in the form of multiple-choice dialogue. The environment would also contain the entire medieval fortress, natural wildlife, possible random events at a chosen date, and a virtual councillor tour guide for adults and youth.
Moreover, our team would create a website that would offer promotion of all the aforementioned goals, and in addition to that, it would contain the whole experience in an Android application that would be available for downloading at several app stores.
The expected outcome of this project is to raise interest in tourism and cultural heritage in the younger population, connect the enterprises, to make the information easily accessible and internationally available in several languages, to save time needed for tourists to get to know the place, etc.
Pilot Heritage Site: The Route of Stephan the Great and
Saint, North-East Romania – Moldova cross-border area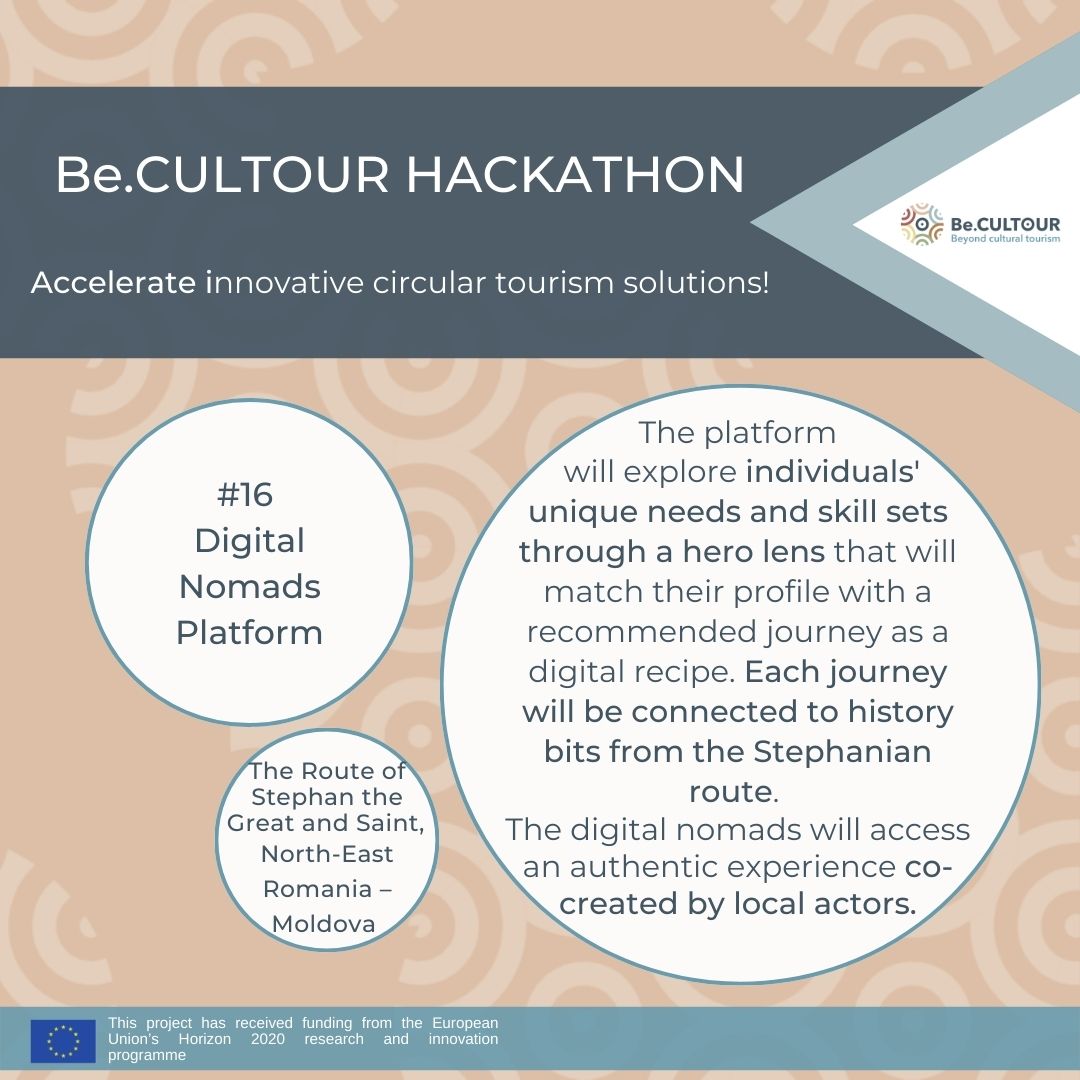 #16 - Digital Nomads Platform
The Digital Nomads platform - Hero's Journeys in Northeast Romania is based on the common template of stories that involve a hero who goes on an adventure, is victorious in a decisive crisis, and comes home changed or transformed. In the highly volatile today's work environment, we aim to become a one-stop-shop solution for highly skilled digital workers (individuals and their families), to choose our region as a work - live - explore destination for up to 6 months.
The platform will explore each individual's unique needs and skill set through a hero lens that will match their profile with a recommended journey as a digital recipe (from local accommodation to tourism experiences to freelance local jobs). Each journey will be connected to history bits from the Stephanian route. When choosing to work & live from the Northeast region and their hero journey, the digital nomads access an authentic experience co-created by local actors and carefully curated in our Digital Nomad platform.
The project is unique due to the gamifying the user's experience, facilitating early immersion in the region by taking over roles (personas) from the local heritage, while ofering a complete work-in/live-in package. The solution can be easily scaled and adapted to other regions, adapting the characters to local history.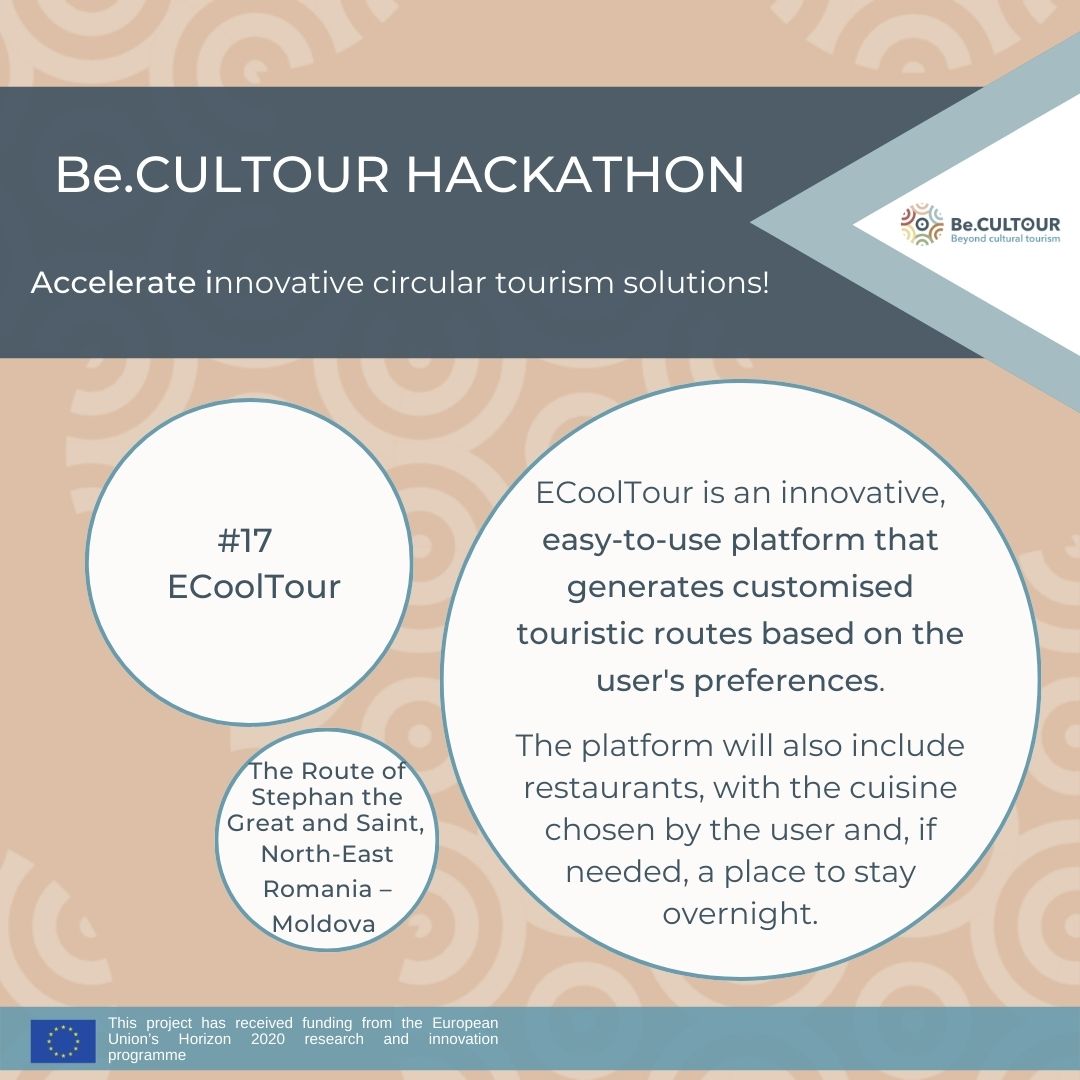 #17 - ECoolTour
ECoolTour is an innovative easy-to-use platform that generates special touristic routes based on the preferences of the user.
This route will contain not only a visit to some attractions, but will also include restaurants, with the cuisine chosen by the user and if needed a place to stay overnight. The user will be able to pay everything inside the platform, but also give an important feedback and rating to each location visited. The smart rating will help improve our database and algorithm, which will make every next route better for the next customers.
It will have also an ability of registration for different entertainment providers, restaurant and hotel owners and different types of small and medium sized businesses, which will help diversify each touristic site.
The ability to add specific places to a site will also make it really easy to solve one of the actual problem with the given route of Stephen the Great (Ștefan cel Mare), which lacks some of the key sites that Stephan the Great has visited throughout His time, such as: the site of the Lipnic Battle; Lăpușna Royal Court; Pârcălăbia Cioburciu; etc. Our platform will correct and complete these and other shortcomings in the route of Stephen the Great.
A great opportunity opened by a digital solution, makes it easy to integrate different other cultural routes, such as: Medieval trade routes; Ancient and medieval fortifications; Ethno-gastronomic routes. And will be easy to give the information exactly how and when we want it to be pursued, so it makes sense in different circumstances.
All in all, this app is calculated, in such a way, that it is a good organizational tool for everyone involved in the touristic industry, not only for the business owners that will find new clients, but also for regular people who just want an interesting weekend trip, in a new interesting location.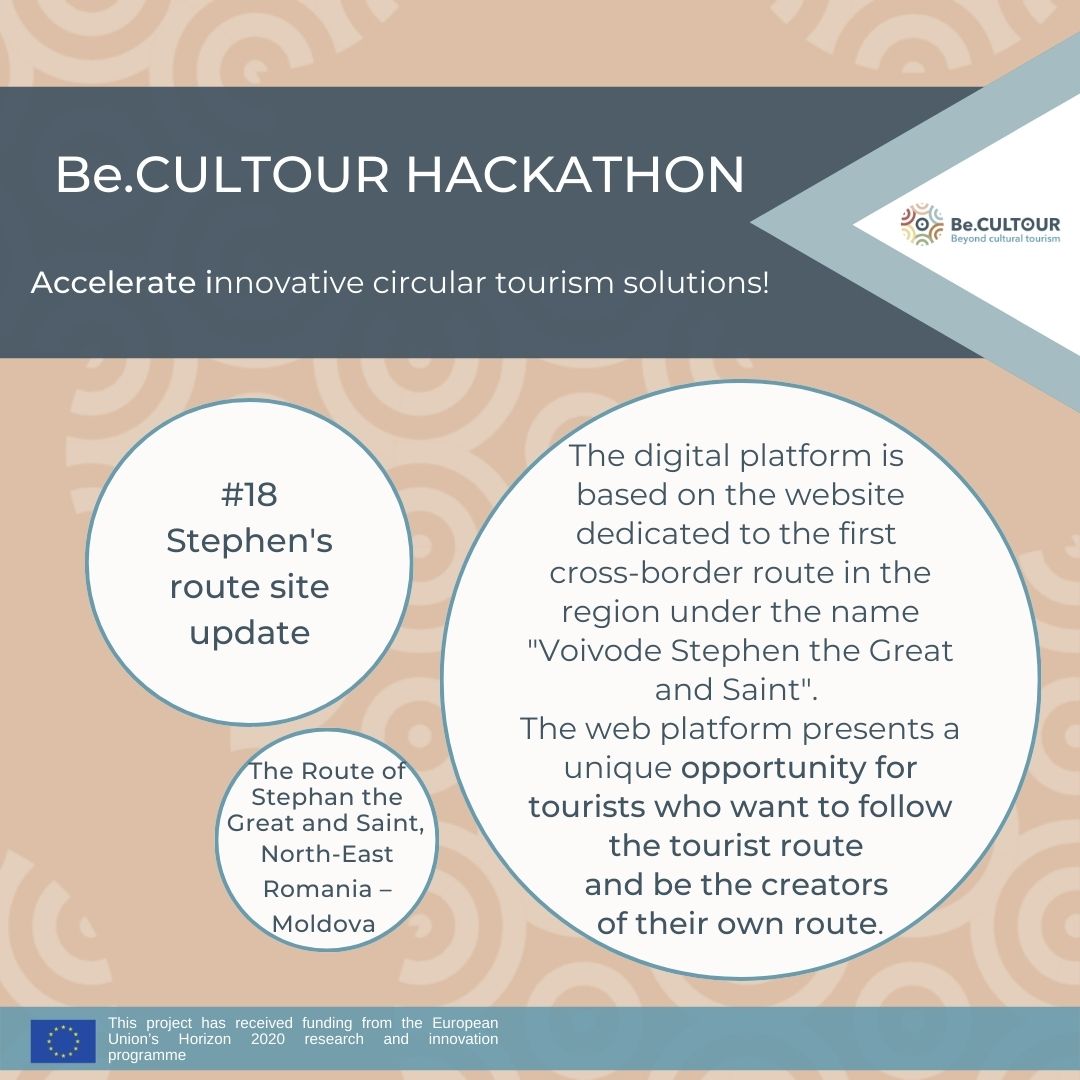 #18 - Stephen's route site update
The digital platform is based on the website dedicated to the first cross-border route in the region under the name "Voivode Stephen the Great and Saint". The web platform presents a unique opportunity for tourists who want to follow the tourist route and be the creators of their own route. Being up to date with the principles of sustainable development and information technologies, we aim to come up with a unique solution for history and culture lovers by applying digital solutions and accessing the route in an online format. The digital solution we propose is to connect all the tourist attractions within the route through information panels with direct access to the digital platform of the route through a QR code, this stage being already implemented in the Republic of Moldova. Each tourist during his trip will be digitally connected to all the locations of the tourist route. By traveling on the route "Voivode Stephen the Great and Saint" in the Republic of Moldova or in the North-East region of Romania, tourists will live an authentic and remarkable experience.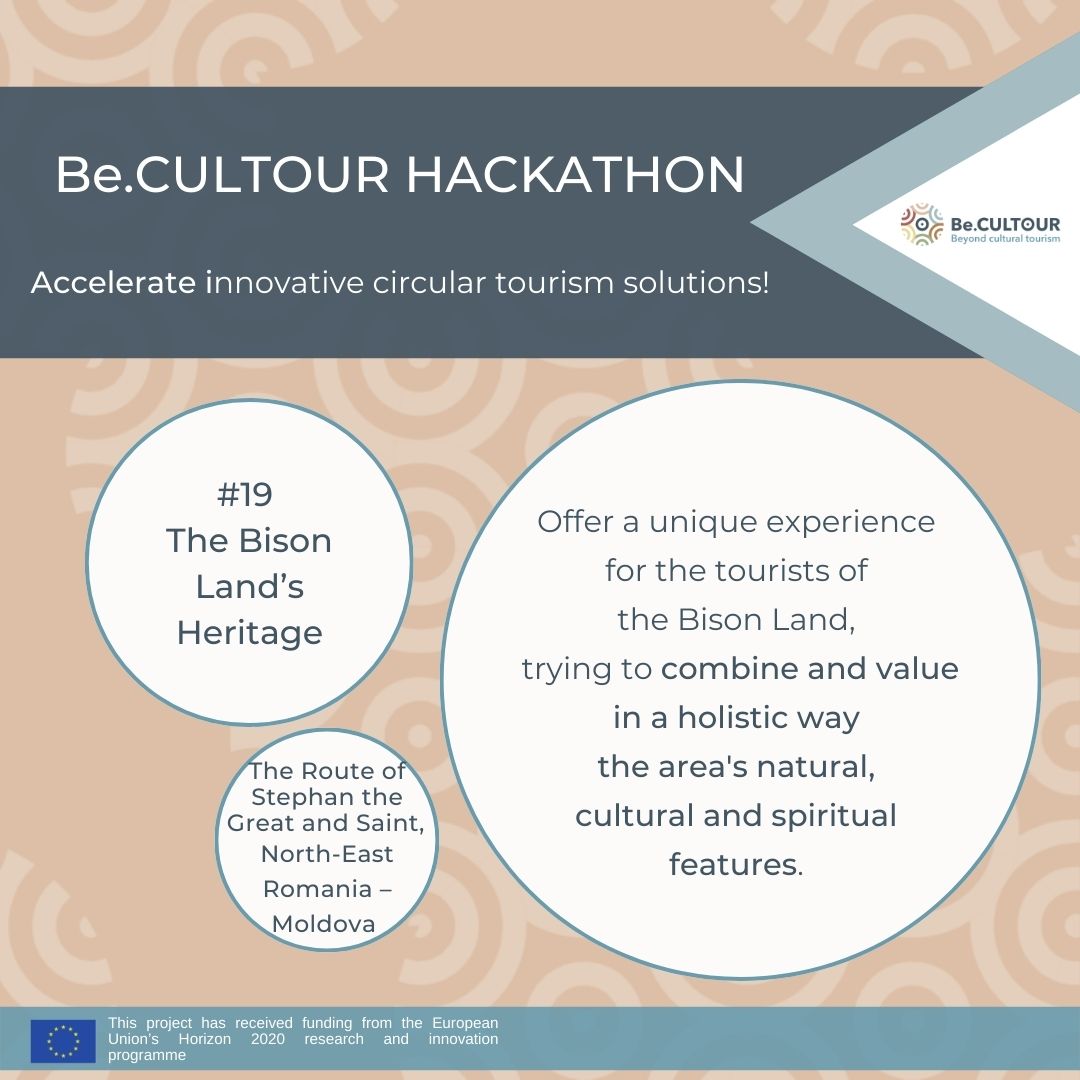 #19 - The Bison Land's Heritage
The main aim of the solution is to offer a unique experience for the tourists of the Bison Land, trying to combine and to value in a holistic way the certain natural, cultural and spiritual features of the area. In Bison Land there are situated two objectives of the ROUTE OF STEPHAN THE GREAT AND SAINT (Neamt Fortress and Neamt Monastery) and other attractions mentioned in the BeCULTOUR project: Vanatori Neamt Nature Park and Agapia, Varatec, Secu and Sihastria monasteries. The monastic population is around 1,100 monks and nuns, the natural heritage is represented by a huge, forested area, where the large carnivores of Carpathians and the iconic species of European bison are present.
Nowadays the tourists are interested especially by the monasteries, neglecting the natural heritage and traditional aspects of the area. This can be transformed into a huge opportunity which will allow to enhance the local identity, the wellbeing, the local business, the biodiversity protection and to reduce pollution. In order to realize this unique experience our proposal takes into consideration:
new trails or adapting the actual trails that will assure a connected spiritual and natural travel experience through a proper interpretation and small infrastructures as "forest bathing", rest benches, panels etc. In addition, guided tour, including wild fauna observation, especially for the European bison, will be provided by the local guides.
a treasure hunt application, based on the local Route's objectives and the above trails. The application will be bilingual, with QR codes and AR elements, assuring an educational environment and visitors' retargeting
culinary events will assure a sensorial heritage experience, emphasizing the natural settings or the human tangible and intangible heritage (folk craftsmen, local products, music and dance). The events will be positioned in close relation with the Route's objectives and trails.