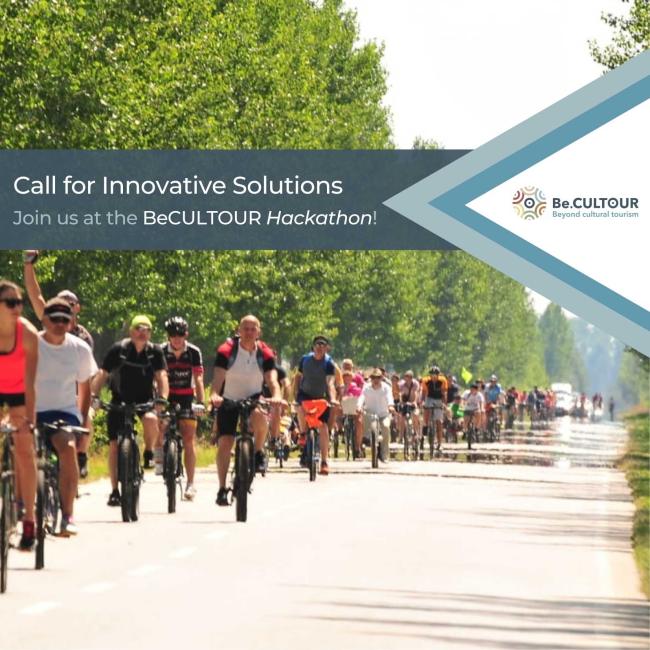 Are you an innovator, interested in post-covid cultural tourism solutions?
Are you eager to design human-centred approaches aimed at enhancing the wellbeing and resilience of the local community?
Are you passionate about sustainability and circular economy?
Do you come from the Republic of Cyprus, Italy, Moldova, Romania, Serbia, Spain, Sweden?
If you wish to shape the future of circular cultural tourism through innovative services and/or products this open call is for you!
Be.CULTOUR Pilot Heritage Sites:
Vulture-Alto Bradano area, Basilicata Region, Italy
The cultural park of Rio Martin, Teruel province, Aragon region, Spain
Larnaca rural cultural landscape, Larnaca Region, Cyprus
Forsvik and Rydal Industrial Heritage Sites, Västra Götaland Region, Sweden
The Route of Stephan the Great and Saint, North-East Romania – Moldova cross-border area
Innovation areas:
Rural Co-living, Sensorial Heritage Experience, Contemporary Meanings of Heritage, Spiritual Travel experience, Nature As Heritage, Industrial Heritage Experience, Transformative travel

Remote Working Destination, Proximity Travel, Post-cultural tourism.
If you wish to learn more about the definition provided for each innovation area of this call, together with the three main concepts of Horizon 2020, Be.CULTOUR framework and definition of circular cultural tourism, please read carefully the open call- terms and conditions available here: https://becultour.eu/hackathon
19 applications will be selected by the 6 Pilot Heritage Sites to participate in Be.CULTOUR Hackathon, which will take place in Brussels from 7 to 9 September 2022 ICHEC.
Selected candidates will be given the opportunity to access the Be.CULTOUR Accelerator, a training programme of 4 months in which they will have the possibility to develop their innovative solutions to a close-to-market stage.
Starting from the challenges identified in/by the targeted deprived, remote or over-exploited areas, the selected participants will develop circular cultural tourism services and/or products that will focus on creating attractive destinations, taking into account post COVID-19 pandemic scenarios.