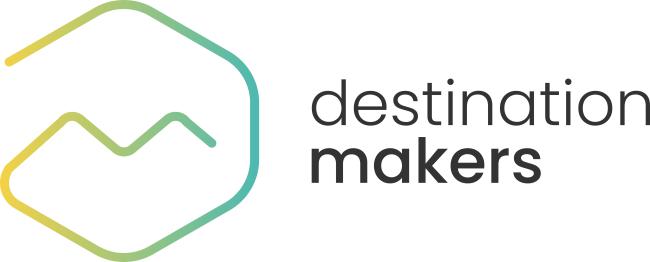 Destination Makers is a boutique consulting company active since 2014 with the aim to enhance, promote and motivate destinations through shared paths with local communities and according to the latest market trends, with the aim of generating a real impact on territories.
The team strongly believes in the potential of marginal areas and has demonstrated with lots of initiatives, now internationally considered best practice, that even off the beaten track territories can become attractive to visitors thanks to destination strategies that combine the needs of new travelers with happiness of the local community.
Through destination marketing, destination management, training and events in line with the best international examples, Destination Makers creates Happy Destinations for the traveler, but above all for the local community.
Destination Makers' "Design for Impact" approach aims to generate real impact on the territories in which we operate, with the aim of creating sustainable projects over time through participatory, shared and transparent paths with a possible change.
Destination Makers applied ist Happy Destination Model in more than 40 destinations in Italy and Europe, with also 2 successful marketing campaigns, now international case studies, Recharge in Nature - Refuges without mobile phone in the Veneto Dolomites, which obtained 19,102 applications from all over the world, and Sea Working Brindisi - Win an office on the sea, which launched the city as a destination for remote workers and digital nomads during the summer of 2020.
Destination Makers for Be.CULTOUR
Within the Be.CULTOUR project, Destination Makers will realize a strategic plan focused on the creation of a sustainable branding framework for small destinations, aligned with the overall project's goals and the travel market trends.
Destination Makers will provide the 6 pilot destinations with guidelines to enhance their circular and human-centered development through a specific branding strategy. The aim is to generate best practices in the pilot destinations and a first, replicable model for other territories.
The pilot heritage site branding strategy, analysis and branding systems document will showcase site-specific marketing instructions to communicate the destinations' unique selling propositions and to overcome flat positioning and communication.
The visions for the strategy will be co-designed with the representatives of the pilot destinations through a design thinking approach. In particular, Destination Makers will organize 1to1 web meetings and an online workshop aimed at:
highlighting strengths and weaknesses of the pilot destinations;

defining their cultural value proposition and the destinations' unique features that will be at the basis of their branding and strategic development;

fostering an innovative marketing approach.
The participation of the pilot destinations in the process will be of fundamental importance to build a bottom up strategy approach with shared values and objectives.