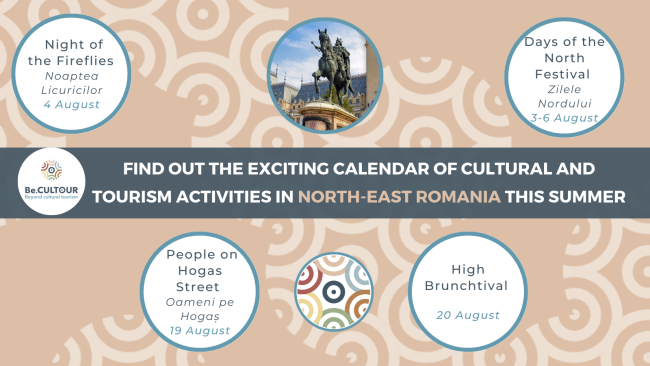 The Be.CULTOUR project continues its celebration of the cultural heritage of North-East Romania with a series of engaging cultural and tourism activities in August. As one of the six pilot heritage sites, this region offers an array of events showcasing its unique natural beauty and cultural traditions, promoting sustainable tourism practices and embracing the circular economy. 
On August 4, don't miss the enchanting "Night of the Fireflies" (Noaptea Licuricilor) in Piatra Neamt, Neamt County. Embark on a magical night hike illuminated by the light of fireflies, exploring the picturesque surroundings of Piatra Neamt. This experience promises to be truly unforgettable, providing a rare opportunity to witness the beauty of nature's illuminating creatures. 
From August 3 to 6, head to Darabani, Botosani County, for the vibrant "Days of the North Festival" (Zilele Nordului). This event offers a delightful blend of gastronomic tours, sports competitions, workshops, debates, theatre performances, concerts, film screenings, and more. Join the festivities and immerse yourself in the region's rich cultural tapestry. 
On August 19, the heartwarming event "People on Hogas Street" (Oameni pe Hogaș #3) takes place in Piatra Neamt, Neamt County. This community-oriented event fosters a sense of togetherness, connecting neighbours and creators in a harmonious meeting. Discover local and regional products and experiences, enjoy workshops for all ages, savour natural drinks and snacks, and groove to live music. 
Finally, on August 20, head to Haita Land, Suceava County, for the delightful "High Brunch". Bask in the beauty of the outdoors as you indulge in a sumptuous open-air brunch featuring local goodies. This event promises a feast for the senses and is the perfect opportunity to savour the flavours of North-East Romania. 
In addition to the August events, visitors are encouraged to explore the region's picturesque landscapes, historic landmarks, and traditional cuisine. North-East Romania offers an authentic experience, blending warm hospitality with cultural treasures waiting to be discovered. 
Plan your visit to North-East Romania and immerse yourself in the region's rich cultural tapestry and unforgettable experiences.