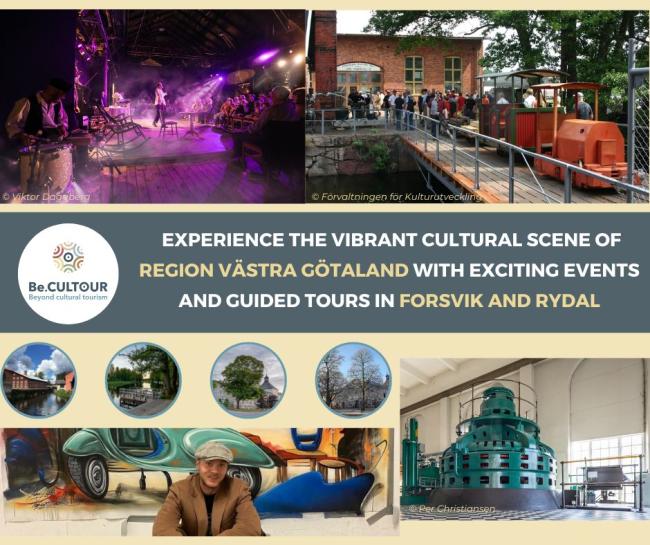 The Be.CULTOUR project invites visitors to immerse themselves in the rich cultural heritage of Region Västra Götaland. As one of the project's six pilot heritage sites, this region offers a captivating blend of music, theatre, art, and guided tours that showcase its vibrant cultural scene while promoting sustainable tourism practices.
In the picturesque village of Forsvik, the theatre at Forsviks Bruk presents a captivating lineup of musicals, theatre performances, and concerts during July and August. This initiative aims to establish a cultural hub in the countryside, creating a platform for professional artists to share their talents and providing unique cultural experiences for audiences. Don't miss out on the opportunity to witness these engaging performances at Forsviks Bruksteater. (link) 
Furthermore, Forsviks bruk (link) offers free guided tours every day at 14:00 during the summer season. Explore the fascinating history of this old mill as knowledgeable guides lead you through its storied past. Additionally, every Wednesday at 11:00, indulge in a Swedish fika, a cherished tradition of enjoying coffee and something sweet. 
As you savour your treats, you'll also be treated to captivating stories from the life that once thrived at Forsvik. On July 21, Forsvik hosts Children's Day, a day filled with exciting activities designed especially for youngsters.
In the charming village of Rydal, the manor presents a delightful blend of musical events and art exhibitions. Mark your calendars for special music programs on July 11, 14, and 15, where talented musicians will enchant audiences with their performances. 
Additionally, throughout July and August, an art exhibition featuring the works of Jessica Jonsson and Adam Algotsson will captivate art enthusiasts.
During the summer season, guided tours are available in Rydal, providing insight into the area's history and heritage. From June 27 to August 18, visitors can embark on a journey to discover the old spinnery machines and learn the art of thread-making. Additionally, explore the charming village of Rydal and visit the well-preserved water power station, showcasing its original interior dating back to 1916.
These events and guided tours are part of Västra Götaland's commitment to promoting sustainable cultural tourism and enriching the visitor experience. Visitors can support the local cultural scene by participating in these activities while enjoying memorable experiences.
Plan your visit to Forsvik and Rydal and be part of the Be.CULTOUR project's mission to celebrate and preserve the cultural heritage of Region Västra Götaland.