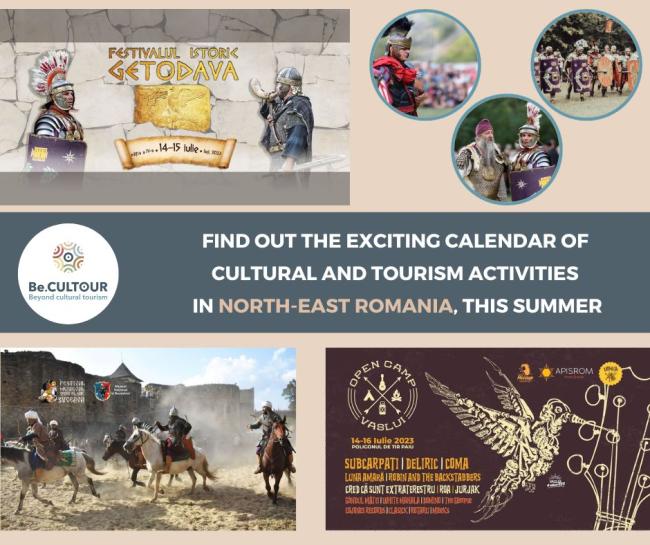 The Be.CULTOUR project, invites travellers to explore the captivating heritage of North-East Romania through a series of engaging cultural and tourism activities. As one of the six pilot heritage sites of the project, North-East Romania offers a treasure trove of natural and socio-cultural resources, fostering sustainable tourism practices and promoting the circular economy.
Kicking off the summer events is the "Identification of Natural and Socio-Cultural Resources and Design of Thematic Tourist Trails" workshop in Cacica, Suceava County, from July 7 to 9. This interactive workshop aims to create thematic tourist trails that highlight the region's unique natural and cultural attractions, providing visitors with an immersive experience and a deeper understanding of the area.
For history enthusiasts, the Getodava Historic Festival in Iasi on July 14 and 15 (link), offers a remarkable journey into the past through historical reconstructions. Experience the ambience of ancient civilizations and witness captivating displays of traditional crafts, music, and art, all showcasing the rich heritage of the region.
On the same dates, the Open Camp Vaslui Festival near Vaslui (link) invites music lovers and free spirits to indulge in the joy of live music and the pleasure of escaping the city for a few days. Celebrating its 14th edition, this local festival has grown into a phenomenon, attracting thousands of people each year. Immerse yourself in the vibrant atmosphere, enjoy live performances, and embrace the spirit of community.
From August 17 to 20, the enchanting Citadel of Suceava will come alive with the "Stephen the Great" Medieval Festival (link). Step back in time and witness the grandeur of medieval art, reenactments, and cultural displays. Experience the customs, traditions, and legends associated with the era of Stephen the Great, an iconic figure in Romanian history.
The promotion of these events is part of the Be.CULTOUR project's commitment to promoting sustainable tourism and fostering a circular economy. By participating in these activities, visitors contribute to the preservation of North-East Romania's cultural heritage while enjoying unforgettable experiences.
In addition to the events mentioned, visitors are also encouraged to explore the region's picturesque landscapes, historic landmarks, and traditional cuisine. The charming villages and towns of North-East Romania offer a rich tapestry of cultural traditions, warm hospitality, and authentic experiences.
Plan your visit to North-East Romania and be part of the Be.CULTOUR project's mission to create a sustainable and immersive cultural tourism experience.