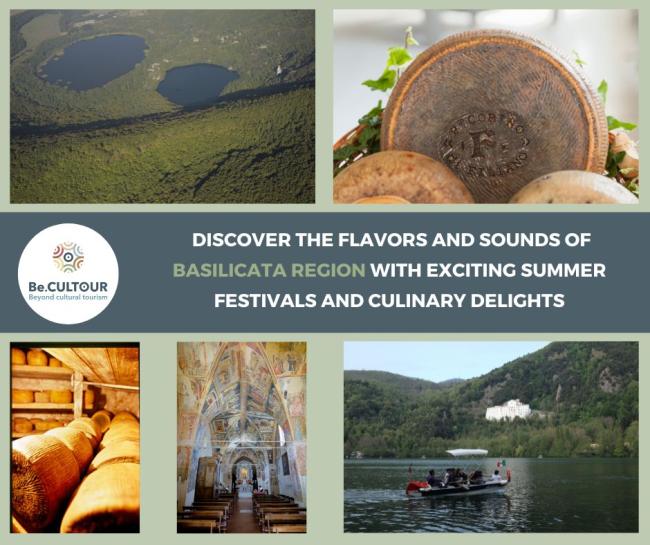 The Be.CULTOUR project invites travellers to explore the cultural treasures of the Basilicata Region this summer. As one of the six pilot heritage sites, Basilicata offers an array of captivating festivals and culinary experiences that celebrate the region's rich heritage while promoting sustainable tourism practices.
Kickstarting the summer festivities is the Saffron Festival in Ripacandida on July 29. Known as the city of saffron, Ripacandida has seen remarkable growth in saffron production, with young and motivated companies leading the way. Visitors to the festival can indulge in saffron-based products, such as bread and cheese, which offer a taste of the region's dynamic and creative culinary landscape.
Next up, from July 30 to August 2, Filiano hosts the Castle Beer Festival, a celebration of craft beer with tasting workshops. Immerse yourself in the world of artisanal brews and discover the diverse flavours that characterise this thriving craft beer scene.
On August 5-6, the Vulcanica Live Festival returns to Laghi di Monticchio in Rionero. Organised by the Vulcanica Cultural Association, this festival is a prominent musical event in Southern Italy, showcasing both emerging artists and renowned performers from the contemporary music scene. The festival's diverse lineup offers a fusion of musical styles that will undoubtedly captivate audiences.
On August 17, the quaint village of Filiano comes alive with the typical day of the harvester - Lu Muzz'c. More than just a village festival, Lu Muzz'c honours the figure of the harvester, a symbol of hard work and dedication. The festival celebrates Basilicata's local peasant culture, offering visitors the chance to savour delicious food, enjoy lively entertainment, and embrace the convivial spirit that defines the region's festivities.
To culminate the summer celebrations, from August 30 to September 1, Filiano hosts the Festival of Pecorino Cheese di Filiano and dairy products. This event brings together producers from 30 municipalities in the northwest area of Basilicata, making it the most important market exhibition of dairy products in the region. With a focus on taste, history, and fun, this festival presents a delightful opportunity to immerse oneself in the rich culinary heritage of Basilicata.
These captivating festivals and culinary experiences are part of Basilicata's commitment to promoting sustainable cultural tourism and preserving its diverse cultural heritage.
Plan your visit to Basilicata and savour the region's flavours and sounds while contributing to the preservation of its rich cultural traditions.