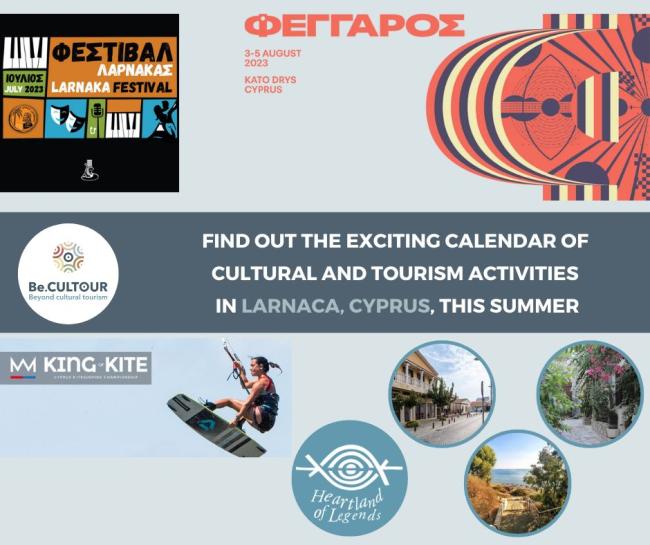 Larnaca (Cyprus), is proud to present an enchanting lineup of events and activities set to take place in the region this summer. As one of the six pilot heritage sites of the project, Larnaca offers visitors a unique opportunity to experience the region's rich cultural heritage while promoting sustainable tourism practices.
Kicking off the summer festivities is the Larnaka Festival (programme here), a music extravaganza that will take place throughout July. With a diverse program featuring local and international artists, the festival promises to captivate audiences with its vibrant performances and celebratory atmosphere. Music enthusiasts from around the world are encouraged to attend this unforgettable event.
For those seeking thrilling water sports action, the 10th King of Kite Cyprus Kitesurfing Championships (link) is not to be missed. Taking place from July 14 to 16 at the picturesque Kahuna Surfhouse on Softades Beach in Kiti, this championship offers adrenaline-pumping acrobatic water competitions, exhilarating races, pumping DJ sets, beach parties, and unique pop-up shops. Whether you're a participant or a spectator, the King of Kite event guarantees an unforgettable experience.
In August, the Fengaros Music Festival  (link) will take centre stage, captivating audiences with its eleventh edition. From August 3 to 5, more than 50 acts from around the world will grace the festival stages in the charming village of Kato Drys. With over 45 hours of music on four different stages, the Fengaros Festival promises a diverse and exciting musical celebration for attendees. Join the Fengaros community and be part of the biggest musical extravaganza of the year.
Additionally, visitors can look forward to the 3rd Zygi Fish Festival on August 26 (link), where they can indulge in delectable seafood delicacies while enjoying a vibrant atmosphere. 
Furthermore, several village festivals, including the 41st Lefkara Festival (link), Kiti Cultural Summer (link), and Pervolia Cultural Festival (link), will provide visitors with a glimpse into the traditional Cypriot culture and heritage.
To enhance the visitor experience, the Deputy Ministry of Tourism organises free workshops where participants can engage in various handcraft and oenogastronomy activities (link). From pottery making to wood carving, needlework to fabric weaving, these workshops offer an opportunity to immerse oneself in the authentic traditions and crafts of the region. The Heartland of Legends beckons visitors with exciting workshops and unforgettable experiences.
Be.CULTOUR aims to promote sustainable tourism practices and encourage a circular economy in the field of cultural tourism. Through the diverse range of activities and events in Larnaca, visitors will have the chance to explore the region's cultural treasures while contributing to its sustainable development.
This summer, don't miss out on these extraordinary cultural and tourism experiences in Larnaca.