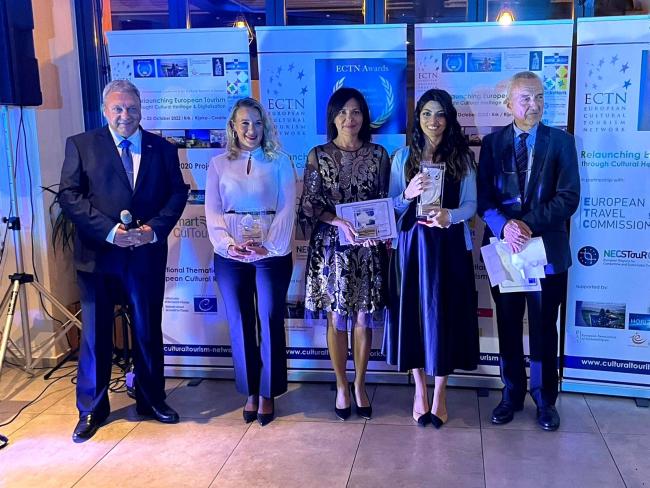 On 20 October, the Community Cooperative "Identity and Beauty" - Sciacca 5 Senses Open-air Museum participated, together with 13 European finalists, in the award ceremony of the "European Cultural Tourism Network Awards 2022 - Destination of Sustainable Cultural Tourism" held in Krk, Croatia.
First, an intense day of workshops and discussions was held, focusing on how to improve and relaunch European Tourism through cultural heritage and digitalisation, the theme of this edition. The Award Ceremony 2022 then unveiled and awarded the winners of this 9th edition.
The community cooperative of Sciacca, a member of the BeCULTOUR network, was awarded the 1st prize!
"Prizes will be awarded for the achievements of cultural tourism destinations that have produced significant results related to improving the visitor experience while respecting traditions and involving local host communities", reads the Award presentation page.
The Community Cooperative 'Identity and Beauty', with its over 120 members and more than 40 cultural and social promotion associations and with concrete impacts to share, found itself to be compared and contrasted with European realities of the sector, and was awarded 1st place in the category of 'Cooperation between Museums and Cultural Heritage Sites'. After the challenges in the journey that brought the community of Sciacca to this point, this award is an important recognition. And it is all thanks to the presence and commitment of every member of the community that makes a Common Vision true.
The 2022 edition of the Awards for Destination of Sustainable Cultural Tourism was organised by ECTN - European Cultural Tourism Network in collaboration with Europa Nostra, European Travel Commission (ETC) and NECSTouR, supported by the European Association of Archaeologists (EAA), Interpret Europe, ReInHerit Horizon2020 Coordination and Support Action.
Learn about the case study of Sciacca on Be.CULTOUR website here.