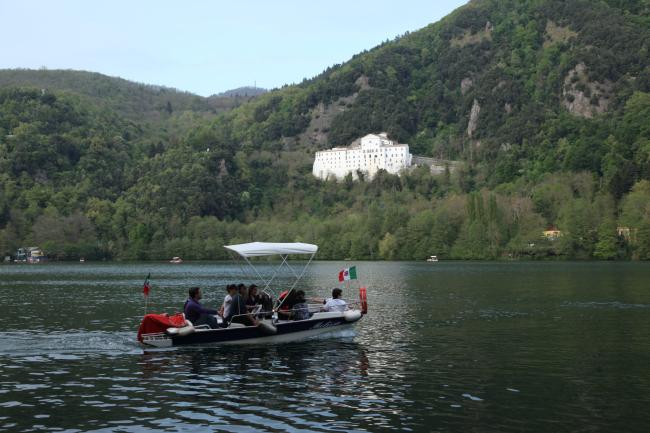 Basilicata is the wildest of Italy's regions. A third of the land is protected, and it's one of the last places where you can still go with the spirit of an explorer, knowing that you have to see it with your own two eyes, because nothing can truly prepare you for the breathtaking beauty of its woods, ravines, lakes and rupestrian churches.
The spell it casts is almost like a cure, a therapy. The best place to start is on the Lucanian side of one of Italy's largest national parks, the Parco del Pollino, around the majestic mountain massif of Pollino. Its walking and biking paths cross through woods with beech trees, turkey oaks and chestnut trees, and they lead to pini loricati: isolated, twisted, centuries-old pines that are emblematic of the region. Some have been around since the times of Dante and Petrarch. Farther north, Appennino Lucano Val d'Agri Lagonegrese National Park is a place where you can recharge your batteries by immersing yourself in nature that seems to change in the blink of an eye.
This is a long ecological corridor from Cilento to Pollino, with a landscape that includes the peaks of the Lucanian Apennines,the lushVal d'Agri valley,Lake Pertusillo surrounded by dense forests reaching all the way to the shore, with trees even growing out of the water, and fauna that includes foxes, weasels, martens and rare wildcats. Not far away is the Riserva Calanchiva di Montalbano Jonico, a prehistoric open-air park with geological wonders including badlands, rocky terrains created by water erosion.
In Basilicata one can catch glimpses of ages past, like at the San Giuliano Regional Reserve, where a whale from the Pleistocene was discovered in 2006. A trip to the Gallipoli Cognato Piccole Dolomiti Lucane Regional Park is truly exciting. We're in the Apennine mountains, with its spectacular needles and peaks, and the dense forest in Gallipoli Cognato, famous for its turkey oaks.
Finally we have the splendid lakes in Monticchio, an excellent place to wrap up your visit. Located inside the Parco Regionale del Vulture, this is a land with exquisite wines, ancient abbeys and rare butterflies, such as the Brahmaea europaea Hartig. Here we find two elliptical lakes that formed in the craters of the extinct volcano of Mt. Vulture, practically twins immersed in beautiful greenery, as is almost everything in Basilicata, with white water lilies blossoming on their surface in springtime. 

Such green beauty is spotted with active attractions, immersed in the wilderness and perfectly integrated with nature, like the Flight of the Angel, an amazing zipline between two of "the most beautiful borghi d'Italia" – Castelmezzano and Pietrapertosa, or the Castelsaraceno bridge, the longest Tibetan bridge in the world, that joins the national parks of Pollino and that of Appennino Lucano Val d'Agri Lagonegrese.