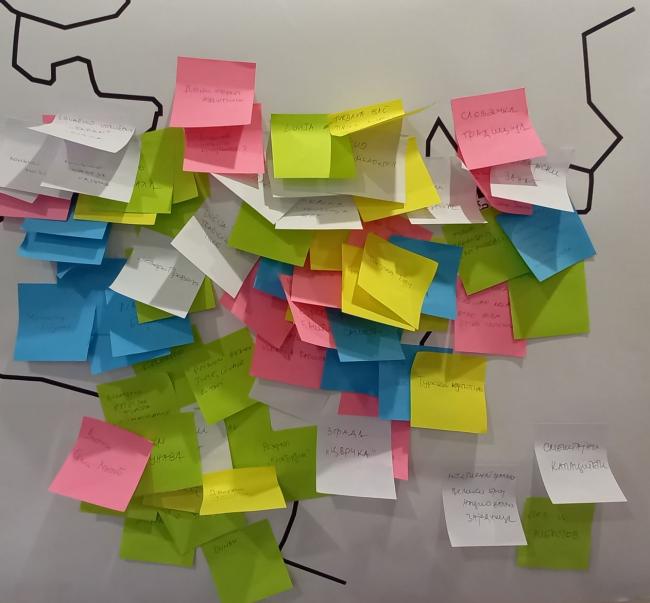 Colourful sticky notes jumbled on a page.
Penned scrawls from many different hands.
Moving one note around, leaving another where it stands.
Ideas are blooming, starting to set the stage,
for a more sustainable and vibrant region.
The simple sticky note is at the heart of co-creation.
In November and December 2021, the six Be.CULTOUR Pilot Heritage sites (PHS)  –  Aragon, Spain, Basilicata, Italy,  Larnaca, Cyprus,  Västra Götaland, Sweden,  Vojvodina, Serbia and Romania-Moldova, Cross-Border Region –  gathered up their communities and kicked-off discussions about regional development through circular cultural tourism. 
These workshops planted the seeds for new networks and provided an opportunity to discuss the regions' assets and challenges. This workshop round was the first of three, which will build on each other to create local Action Plans for circular cultural tourism.
Such an ambitious aim calls for unique methods that allow for bottom-up co-creation. All PHS workshops adopt and tailor a common methodology based around modules created by ICLEI Europe. Each module is designed to harvest the knowledge and experience of participants, for example:
Stakeholder mapping:
To get a sense of who was present, participants' names and organisations were written on a sticky note and placed on a stakeholder map. This is a brilliantly visual way to see the connections between participants, and gaps regarding which type of stakeholder was missing from the room.
Discovering our (hidden) assets:
In this session, participants used sticky notes to identify key culture and cultural heritage assets on a map of their PHS. They were encouraged to point out 'hidden' assets that deserve more attention! Afterwards, the groups brainstormed challenges associated with these assets, and some even started committing to teams of who would address them.
The results of the workshops are documented, saved, and used again. It happens often that the participants change the original ideas, even after a few months. And it is good! So called iterative loops are important in the co-creation process. Sometimes you have to step back in order to move on with momentum. And with a head full of ideas (and a page crowded by sticky notes!).