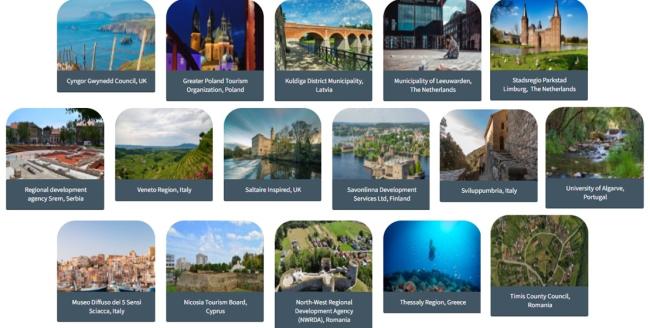 Be.CULTOUR has built a community of 16 passionate regional representatives committed to shaping the future of cultural tourism in their territory.
The 16 "Mirror Innovation Ecosystems" are part of the Be.CULTOUR Community of Interest and together with the representatives of the six project Pilot regions, they are participating in a peer-learning scheme based on the pilot/mirror approach.
Find more about their local cases here.
As part of the Be.CULTOUR peer-learning programme, two Community Conversations took place during the project's first year.
Held on 26 October 2021, the first Community Conversation was the occasion for the Community of Interest to meet, present the project activities and the Pilot's cases, while giving space to the mirrors to introduce themselves and gather their expectations regarding Innovation areas and peer learning activities.
The topic of the second Community Conversation was the inclusion of local communities and the creation and boosting of local ecosystems. The event focused on the methodology and outputs from the first round of the Be.CULTOUR local workshops and more specifically on the challenges and opportunities when building local ecosystems and involving the tourism stakeholders.
Małgorzata Ćwikła, from ICLEI Europe, presented the Be.CULTOUR methodology on human-centred design and the steps behind the organisation of the local workshops. Representatives from the six pilots areas presented their experience within the workshops, focusing on the challenges, success and lessons learned. The second part of the event was dedicated to presenting two local cases from the Mirror Ecosystems.
Anna Salvagio, Museo Diffuso dei 5 Sensi Sciacca Cooperativa di Comunità Identità e Bellezza introduced their experience in generating a responsabile and sustainable tourism economy through a strong engagement of the local community in all the activities. By showcasing concrete examples, Ms Salvagio stressed the importance of the involvement of local ecosystem actors in social, cultural, environmental, and economic strategies. Find out more about this local case study here.
Julia Calver, Saltaire Inspired,  presented Saltaire Industrial Village and the concept around the co-creation of art events involving residents, schools, community groups & businesses, thus ensuring cultural experiences for all who live, work & visit Saltaire. Ms Calver discussed the local challenges, lessons learned and best practices, underlining the importance of local partnerships in Saltaire, within the district as well as beyond Europe. Find out more about this local case study here.