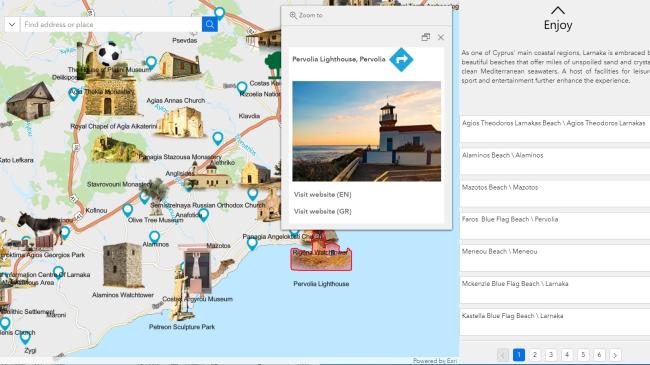 The Larnaka Interactive Map is an online, interactive map of Larnaka region. It covers the city and rural and mountainous communities, highlighting all the points of interest. The Larnaka Interactive Map emerged from the Be.CULTOUR workshops and included into the Larnaca Pilot Area Action Plan.
Split into sections of: Enjoy, Explore, Natural Treasures, Tradition, Sports & Training, Fun Family Holidays, Taste Food & Wine, Accommodation, and Useful Information, users can easily navigate to their area of interest to find the attractions, sites and activities within their selected category. Additional information can be accessed by simply clicking on the map, including images and website links to more dedicated information such as contact details, opening times, admission fees and background information.
Each point of interest on the map is featured with a clear icon indicating the type of attraction, from beaches and natural beauty spots, to museums, monuments and leisure establishments, as well as nature and cycling trails.
Users can also zoom in and out of the map to orientate themselves or search areas or attractions by name.
The interactive map is an action under the Measure 19-Leader is funded by the European Agricultural Fund for Rural Development by 53% and by National Resources by 47%, managed by the Local Action Group Larnaca and Famagusta Districts Development Agency.
The Local Development Strategy of the Local Action Group of Larnaca and Famagusta Districts Development Agency aims at a 'Cooperation for creating self-sustaining, diversified, vibrant rural areas, that will attract people for work, habitation, and visit.