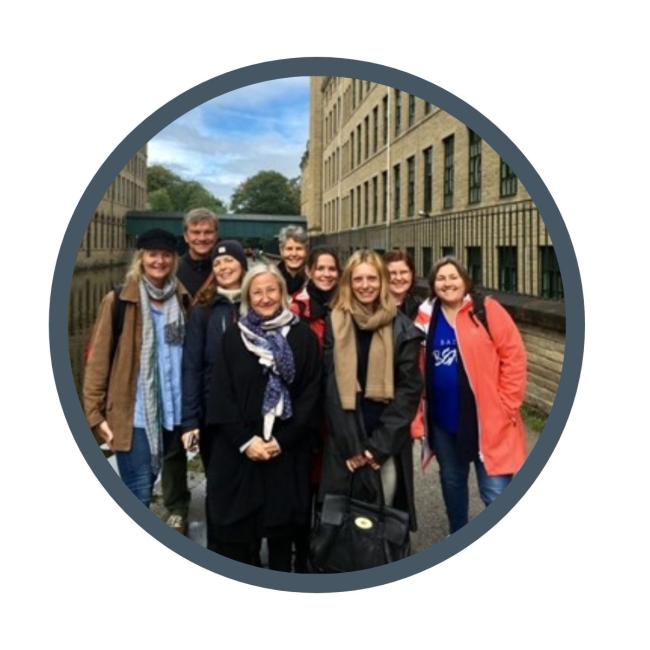 Saltaire Inspired is an ambitious arts charity, creating quality contemporary arts events in a unique historical & contemporary context of Saltaire Industrial Village, a UNESCO World Heritage Site. We involve residents, schools, community groups & businesses, ensuring cultural experiences for all who live, work & visit Saltaire.
What is Be.CULTOUR for you?
For Saltaire Inspired, Bradford, being part of the Be.CULTOUR Community means we can share and develop more co-creative and innovative ways to build relationships with our local and wider communities to generate effective circular cultural tourism experiences in places of Industrial Heritage. And why Rydal? Well, our shared story begins in 1853 when both Salts Mill (Saltaire, Bradford, UK) and Rydal Museum ( Rydal, Västra Götaland, Sweden) were built! Some years later in 2018 when Rydal visited Saltaire we began our small collaboration of exchanging artist work and locating it within residential homes each December in Saltaire Village and in the windows in Rydal!  
What is the greatest challenge that you are facing in tourism?
Saltaire Village as a World Heritage site is not as well known regionally and beyond as a cultural destination, and there is limited understanding by locals and visitors of the reasons for its UNESCO status. Equally, those who do visit, tend not to extend their stay or explore cultural attractions in the wider district, such as Bradford Industrial Museum, Cartwright Hall or Cliffe Castle for example - all gems within a short distance of each other.
What is the main strategy/solution you are working towards or achieved in circular cultural tourism?
Bradford has just achieved Capital of Culture 2025 in recognition of the creativity of local communities across the city, blending heritage, the arts, diversity and inclusivity. Bradford is one of the youngest cities in Europe, and there is an energy to nurture community-driven sustainability and human-centred approaches to re-create and re-design impactful cultural experiences, building on local connectivity as well as global links and partnerships. 
Saltaire as an Industrial Heritage site within Bradford, we are keen to develop and celebrate the circular cultural offer of cultural experiences, venues and organisations in and beyond Saltaire. With our co-collaborators in Västra Götaland, (Sweden), local artists from the area are developing a community of practice with Rydal in exchanging expertise, creative innovation whilst reflecting the textile industries that we connect us. Be.CULTOUR provides an excellent international impetus for us to connect, learn and co-create together.
Learn more about this mirror ecosystem here.