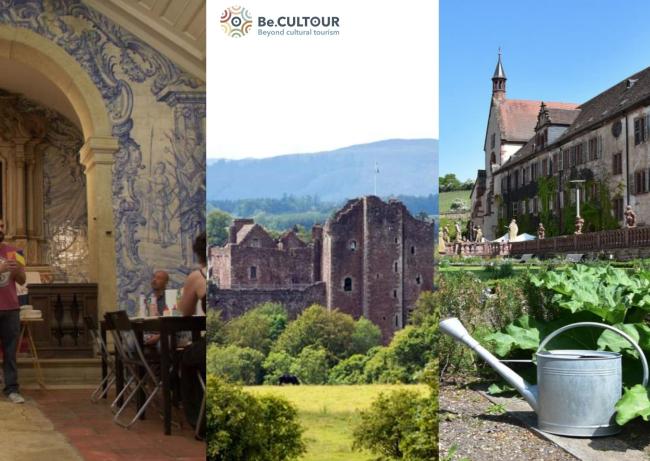 During the meeting of the Be.CULTOUR project held the 28th January 2022, three case studies on the circular approach in cultural tourism have been presented to the Community of the project.
The first presentation focused on the Historic Environment Scotland (HES) introducing the institution and its missions on historic sites, underlining some aspects related to circular cultural tourism. Linked to international sustainable development agreements, the HES plans aim to improve people's lives, health, economy, culture and environment through the sustainable cultural tourism approach, also inspiring the historic environment-led climate change. In this context, Doune Castle is a relevant best practice, having a positive impact on the local community from an economic perspective and for the accessibility of the area. Additional opportunities are represented by the synergies among diversified local attractions scattered on the territory and the cooperation between the different stakeholders put in place when accessing external financing, which benefit the entire area.
The CREATOUR project, the second-best practice presented, focuses on the links between the culture and the tourism sectors, developing sustainable creative tourism both to boost tourism in small cities and to contribute to local cultural vibrancy and holistic development. The activities organised in the various pilot areas were showcased, presenting four key dimensions of creative tourism: active participation, learning, creative self-expression, connection with local community.
The last case study illustrated some of the projects involved in the context of Future for Religious Heritage (FRH), an organisation promoting the protection of religious heritage, also in the perspective of circular cultural tourism. Some examples were showcased, of which aim is to enhance the landscape values and the human-centred approach in religious heritage tourism: Champing activities, for camping inside abandoned or neglected churches with the ambition to preserve and regenerate churches in rural areas; SKIVRE project for revitalizing the historical crafts of monasteries, creating sustainable high-quality products and establishing innovative distribution strategies involving local communities, thus activating dynamics that favour touristic flows of nature lovers; lastly, Monastero di Santa Catarina d'Alessandria project, where some bakers' associations have rediscovered and enhanced the ancient traditions of local monastery pastry, using ancient ingredients to make the authentic recipes produced in the same laboratories used for hundreds of years.
These examples show that a circular approach to cultural tourism can bring economic, social and environmental benefits, with a positive influence on local communities, increasing tourist flows. Further information and insights on the topic can be found on the social media channels of Be.CULTOUR and the project official website.