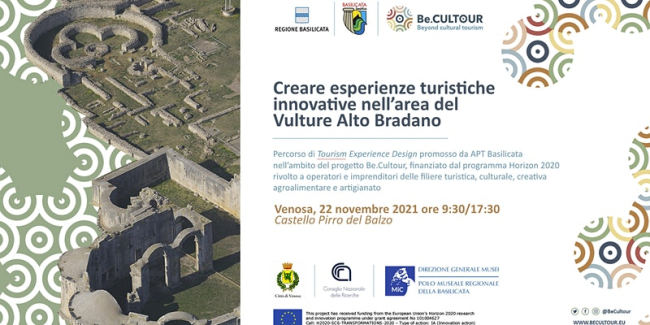 In the framework of the Community of Practice (CoP) of H2020 Be.CULTOUR project, the first local workshop in Basilicata (Italy) is held the 22th November at the Castello Pirro del Balzo, Venosa. The Community of Practice (CoP) is one of the four levels of engagement in the broader Be.CULTOUR Community, set to foster regional development for sustainable and circular cultural tourism. The CoP includes other heritage sites in Larnaca (Cyprus), Aragon (Spain), Västra Götaland (Sweden), North-East Romania (Romania) and Vojvodina Region (Serbia).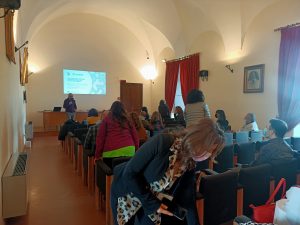 In Basilicata, the project, coordinated by the National Research Council – Research Institute on Innovation and Development Services (CNR-IRISS), aims to create innovative tourism experiences in the area of Vulture Alto Bradano. The event is organised in cooperation with the project partner Agenzia di Promozione Territoriale (APT) supported by the Materahub Consortium, with CNR-IRISS as scientific mentor. It involved about 25 participants from the tourism-cultural, agrifood and craft sectors.  The objective of the workshop is to enable local stakeholders to share common challenges and create opportunities in the field of circular cultural tourism, co-developing an action plan for sustainable and circular cultural tourism over the next three years.
Among others, the event was attended by the mayor of Venosa Mariana Iovanni, APT Director Antonio Nicoletti and Antonia Gravagnuolo, project coordinator and CNR-IRISS researcher. She presented the objectives and approaches of responsible tourism, focused on the development of human capital and local entrepreneurship, starting from cultural heritage. A tourism model that does not aim to "consume" the territory's resources, but regenerates them.  The "circular" model of cultural tourism is based on the cooperation of public and private actors, going beyond the tourism sector and integrating agri-food production and creative and cultural production as attractive elements of a "transformative" experience. The circular development model proposed by Be.CULTOUR is therefore oriented not only to attract new tourist flows but also to increase the well-being of communities.
The project involves the APT Basilicata, together with the project partners and the contribution of local operators and institutions, in the participatory development of an innovative offer in the Vulture Alto Bradano area. The project is a pilot initiative that is fully in line with the new Strategic Plan for Tourism Marketing, as explained by APT Director Antonio Nicoletti. The co-creation workshops aim to design innovative solutions for sustainable cultural tourism, also by leveraging the potential of digital technologies to propose immersive experiences for the fruition of Cultural Heritage.
Follow @BeCultour on social media to stay up to date with the workshop's outcomes!