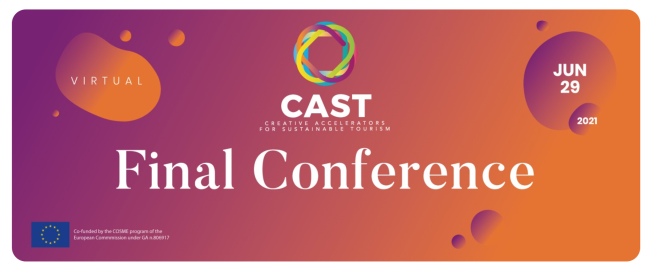 In the framework of Final Conference of the three-year European project CAST "Creative Accelerators for Sustainable Tourism", held online on 29th June 2021, CNR-IRISS – coordinator of the Be.CulTour project – was invited in order to present the topics of the new project.
The CAST project aims to support the creation, entrepreneurial development and scalability of businesses operating in the tourism sector, through incubators and accelerators, by integrating creative, artistic and design skills from CCIs – Cultural and Creative Industries – with transversal technologies and other relevant expertise. The CAST consortium is composed by partners from Ireland, Cyprus, Spain, Italy, UK, Belgium, Germany and Denmark, providing a balanced geographical coverage to work with creative and tourism businesses, and stimulate their creation, growth and internationalisation.
The event was organised by the European Business and Innovation Centre Network (EBN) to introduce the best creative, sustainable and digital businesses solution for tourism in Europe. It was involved numerous industry experts, financiers, companies, incubators and accelerators specialised in sustainable tourism.
Mrs. Alessandra Marasco from CNR-IRISS, expert in collaborative innovation, service experience design and sustainable behaviours in cultural tourism, has participated as a speaker in the session organised by CAST partner Lazio Innova, dedicated to the topic "Open Innovation and co-creation for a sustainable tourism industry". In particular, Mrs. Marasco has introduced a presentation entitled "Beyond Cultural Tourism. Heritage innovation networks for human-centred cultural tourism", aimed at illustrating the role and development of collaborative innovation networks for cultural heritage within the Be.Cultour project, funded within Horizon 2020 by the European Union.